< Back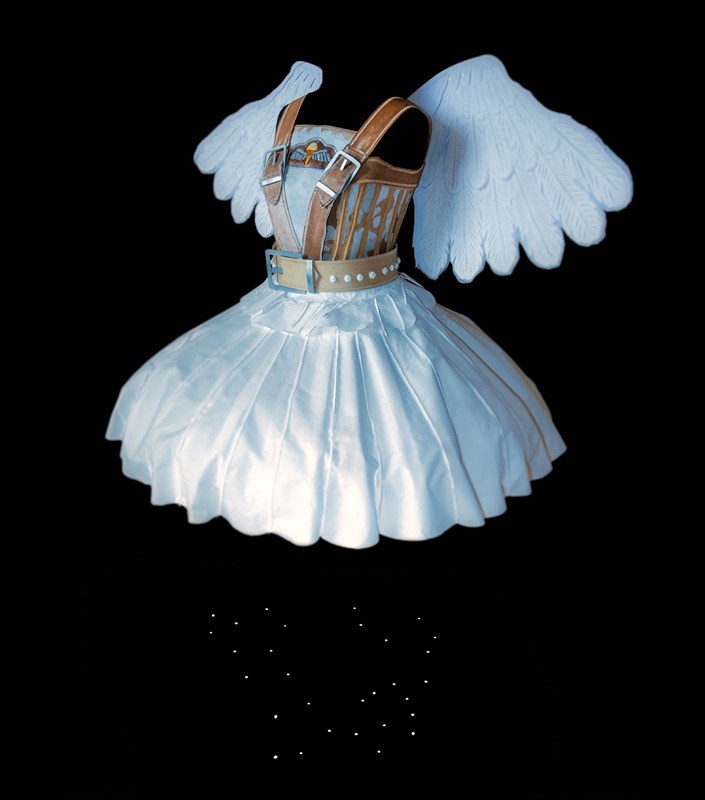 The Garment as a Canvas - Artist in Focus - Stephanie Smart - July 2017
Stephanie Smart's opus entails working with historic fashion and embroidered paper, where she applies Japanese Mizuhiki and paper cutting techniques. She is concerned with the representation of the more ephemeral aspects of human personification. Using paper and needlecraft, she illustrates and incorporates text with the aim of reflecting and interpreting narratives in the form of apparently wearable garments. The visual impression individuals convey of themselves often express their thoughts, emotions, memories and dreams. To her, people are constructed works of art "wearing" layers of decorative manifestations that are consciously and unconsciously created, read and interpreted by others.

Smart began creating items of clothing after visiting a museum in Istanbul, where she encountered a paper kaftan made for a Sultan. One commentator wrote that this robe, decorated with sacred verses and prayers, would have been worn "...not to get magical effects but…as a form of worship to shift the mind in a particular mode of devotion." The simple shape of the original paper kaftan fascinated Smart and reminded her of a hospital gown; for her the connection conveys the fragility of the emotional state and the physical form of the person within.

By making attires from paper Smart presents and interprets the garment as a canvas for drawing and script, with the aim of making a work that is intricate, visually inspiring and thoughtful. She refers to how the inside of the fabric touches the flesh and inner vulnerability, whereas the outside of the garment is exposed to external scrutiny. Even though her work is beautiful it also questions widespread perceptions of surface beauty. Her objectives are to challenge the preconceptions of paper and craft, to question the boundaries of art as well as to create objects that are carefully constructed and materially proficient. Smart deems that craft, fashion and fine art interweave.

Stephanie Smart attained her MA in the Cultural Study of Cosmology, from the University Kent; and a BA (Hons) Decorative Arts Degree Nottingham Trent University. She has participated in several artist residencies at Danny House, Sussex; The Muse Gallery, London; Sir William Perkins School, Surrey; Stour Valley Arts, Kingswood, Canterbury; Artist-In-Residence and assistant to land artist Andy Goldsworthy. Previoulsy Smart also worked as a mixed media artist with the international glass and installation artist Emma Woffenden.

Her latest exhibitions included Danny House, Sussex, Maison de Papier, solo show; Orleans House Gallery, London, Lace, collaborative show; Orleans House Gallery, London, The New Georgians, collaborative show; The Muse Gallery, London, She Wears her Spirit as a Dress, solo show; The Kaleidoscope Gallery, Sevenoaks, The Meeting Room, a Space for Minds to Meet, collaborative show.

Courtesy and ©Stephanie Smart and Renée Pfister, 2017. All rights reserved.
The Angel Bourne Dress, 2017