< Back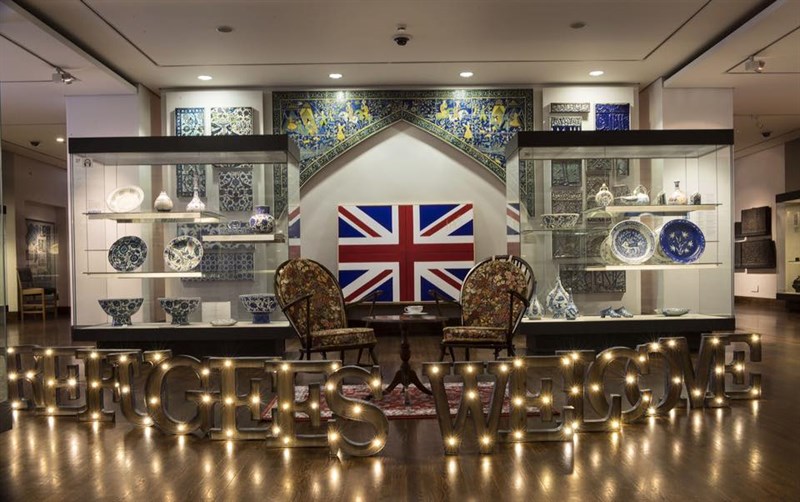 Refugees Welcome - Artist in Focus - Alketa Xhafa Mripa - July 2016
Reflecting on the ongoing refugee crisis and the celebrations of the Refugee Week UK our July Artist in Focus newsletter presents Alketa Xhafa Mripa. Her abundant oeuvre has taken many forms including paintings, photography, embroidery, films, and installations, advocating issues of women's liberation and independence. Xhafa Mripa's creative vision introduces provocative ideas that raise awareness of the way oppressive societies not only behave, but also mythologise women into archetypes. She focuses on identity, history and memory, all the while echoing her upbringing in Kosovo and its tumultuous transition from communist to democratic, then independent country. A bold messenger for activist art, Xhafa Mripa is a passionate campaigner of human rights, empowering women living in oppressive societies. She shares with the world a deep emotional response to the reality in which she lives. Recently she has been involved in the Refugee Week at the British Museum, London.
Britain is a country with a long history of welcoming refugees. What is and what should be Britain's
position be on the current refugee crisis? Are we doing enough for refugees escaping Syria and other war torn countries?
Xhafa Mripa
's i
nstallation Refugees Welcome, is inspired by these questions, hopefully it will aid us all to find some answers through our own personal stories.
Alketa Xhafa Mripa
came to England in the 1990's as a student, when the war in her country Kosova, turned her into a refugee. She cannot help but remember how much the British people looked after Kosovan refugees: they opened their hearts and their homes to the people of Kosovo, including her. With
Refugees Welcome
, she hopes to assist us remember, recall and rediscover that spirit and solidarity.
The installation at the British Museum is a preview of her up-coming project.
Refugee Welcome
consists of a living room housed in the back of a truck that will tour Britain in autumn 2016. As it stops at well-known sites everyone is invited to share their own thoughts and stories around these issues. The artwork will develop alongside these narratives and thoughts - making them an integral part of the work. Eventually this soulless living room will be transformed into a depiction of British peoples answers to this ongoing crisis.
©

Counterpoints Arts and Balkan Artists Guild, Aleka Xhafa Mripa

and

Blerim Racaj

(photography), all rights reserved.
In association with Counterpoints Arts and Balkan Artists Guild, for further information about Alketa Xhafa Mripa's
work contact
[email protected]

Alketa Xhafa Mripa
Refugees Welcome, 2016
Performance related installation
Dimensions variable
British Museum, London.