< Back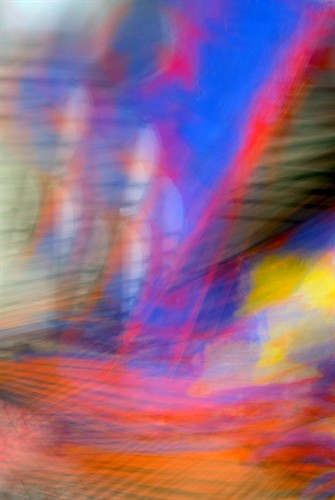 Rhythmos & Synaesthesia - Artist in Focus - Joseph Jurson - March 2016
Joseph Jurson's latest body of work, the Rhythmos series, comprises thirty-six photographs. The images were taken in his studio near New York, without the use of special lighting. A combination of painted surfaces, flat-layered coloured papers and cut-out shapes were utilised, creating his subject matter. Rather than keeping the camera steady during the extended exposure time, Jurson keeps moving his apparatus to create these stunning and vivid works.
It was the composer and friend of the artist, Jim Papoulis who described Jurson's work as Rhythmos, a Greek word explaining the combination of music and dance where motion by a recurrence or pattern acts as the primary reference. Closer inspection of Jurson's photographs also reveals an association with Synaesthesia - the expression of emotions through art and the mixing of senses – in which music is perceived as having colour and form.
Established in 19th century, during the rise of Modern Art, this concept grew in popularity with artists, writers and composers, who explored innovative ways of depicting an advanced world in the context of broad artistic activities, looking for subjects and techniques beyond traditions. Not surprisingly, these experimental artist's interpretations seek to provide viewers with a deeper understanding of social and technological developments, pronouncing fundamental changes. Jurson's concoctions reflect transformation in an abundant manner. His imagery consists of independent, irregular, striking elements - merging, advancing, floating free - the outcomes are highly individual evocations of imagined sensory experiences.
Born in Detroit, Michigan, Joseph Jurson was educated at the School of Art, University of Michigan. He graduated with a cum laude in Graphic Design & Photography, and has exhibited widely throughout his prolific career. His photographs are held at The American Chemistry Council, Washington DC; The Carlyle Group, USA; Detroit Institute of Arts, Detroit, Michigan; Latham & Watkins, USA; The Lillich Residence, Shreveport, Louisiana; Pfizer Inc., New York; The Ralph Lauren Residence, Montauk, New York; US State Department, Art in Embassies Program and the Four Seasons Hotel, Mexico City, Mexico.
©Joseph Jurson, Jim Papoulis and Renée Pfister, 2016
Rhythmos #20, 2016
H36" x W24", 25 editions,
4 AP; £990
H45" x W30", 3 editions, 3 AP; £1970