< Back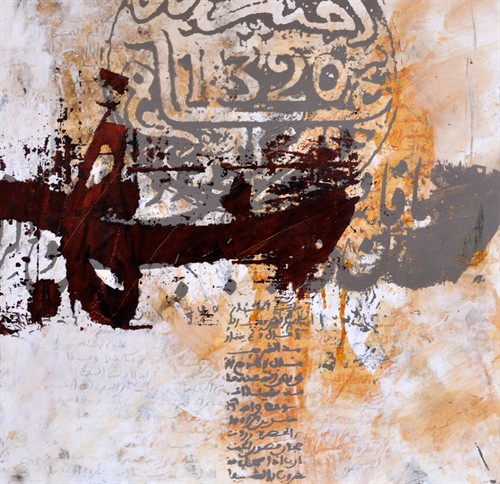 Freely Scribbled - Artist in Focus - Mustapha Amnaine - February 2016
Mustapha Amnaine's work explores the odyssey of the dreams and aspirations of his native civilisation. His representations express metaphors inspired by ancient Moroccan myths. Freely scribbled graphs and literal fragments from old pieces of wedding acclamations are empowered and accentuated on fields of orange and off-white shades. His canvases transform, when scripts become drawings and patterns, creating new meaning as well as a balance of control and energy, order and dynamism.
Now and then, Amnaine's paintings also depict local coins in a clear or otherwise a vague mode. They relate to an old-fashioned yet still practised custom, adding another layer to his visual narratives. Movement and fluidity are sustained with colour splashes and stylised inscriptions, permitting the artist to expose the silent space that exists between and around words. Amnaine's painterly language conveys his personal response to Moroccan tradition and contemporary painting, characterised by gesture and emotion.
Mustapha Amnaine was born 1957 in Marrakech, Morocco. He earned a Diploma in Applied Arts in Marrakech, in 1979 and trained from 1979 – 1981 at the Regional Pedagogical Centre, Department of Fine Art, Rabat - Salé. From 1981 to 1986 he worked as Fine Art Teacher at the Cadi Ayad High School, Marrakech; and at École Normale Supérieure, Rabat. In 1986 he became Professor at the Hassan II High School, Marrakech. He has exhibited widely and his works are held in private, public and corporate collections in Morocco, Saudi Arabia, Bahrain, China and France.
©Mustapha Amnaine and Renée Pfister, 2016
This is a collaboration between Renée Pfister Art & Gallery Consultancy and
Moroccan
Fine Art, UK Representative of Mustapha Amnaine.
For further information about
Mustapha
Am
naine's work

contact
[email protected]