< Back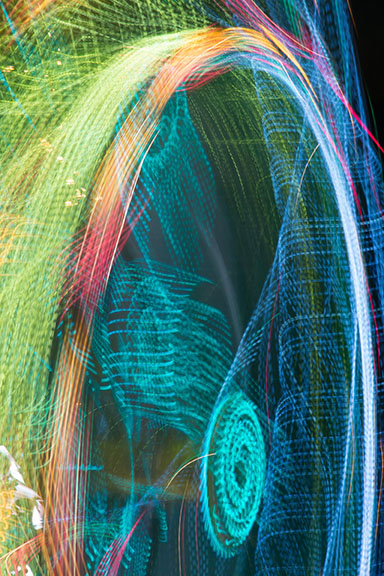 Artist in Focus - Joseph Jurson - June 2015
Joseph Jurson's abstract photography approaches the familiar in a refreshing manner. To him, urban, suburban and natural environments offer endless inspirations and ways of seeing. A small travelling carnival residing in South Salem, New York provided the inspiration for the Orbiter series. Central to this particular body of work is a complex fun-fair structure enabling Jurson to create images that speak through and beyond chaos. Experimenting with the variables of time, exposure and motion as well as exploring the intricacies of shapes and patterns illustrates his animated visual language. The results are colourful spinning wheels eloquently frozen in time and suspended in space. In his working process Jurson applies the classical tradition of photography. Each full frame depiction is created without extraordinary dark room or computer manipulation, conveying beauty and purity. Archival pigments and paper with state-of-the-art printing equipment have been utilised for the printing of his artistic expressions.

Born in Detroit, Michigan, Joseph Jurson was educated at the School of Art, University of Michigan. He graduated with a cum laude in Graphic Design and Photography and has exhibited widely throughout the United States. His photographs are held at The American Chemistry Council, Washington DC; The Carlyle Group, USA; Detroit Institute of Arts, Detroit, Michigan; Ford Motor Company, William Clay Ford Jr; Latham & Watkins, USA; T
he Lillich Residence, Shreveport, Louisiana;
Pfizer Inc., New York;
The Ralph Lauren Residence, Montauk, New York;
US State Department, Art in Embassies Program and the Four Seasons Hotel, Mexico City, Mexico.
©Joseph Jurson and Renée Pfister, 2015