< Back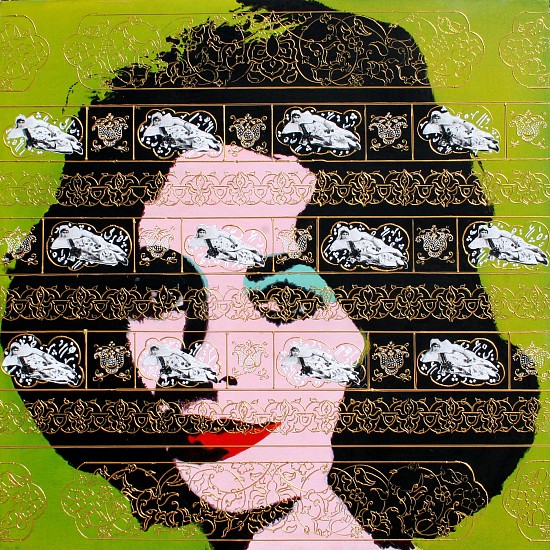 Pop Art Icons - Artist in Focus - Mahmood Sabzi - August 2016
It is Sabzi's recollections and reflections that often lead him to a culling of images from various grand styles. Thus, for example, the images of Warhol or the miniatures of various Iranian periods not only recall artistic periods and achievements but also evoke metaphysical sign-posts of cultural identity. These paintings essentially evoke discourses, be it directly or indirectly, about how the fate and the life of man is measured in art, and that history too is a construct of aesthetic preferences. The message in all of these assimilations is that there is no pure and comprehensive grasp of the real but selected viewpoints. Examples are images Marilyn Monroe juxtaposed with oriental signs, dollar signs, Disney cartoons, supersize hamburgers, and many more. These works are all reminders of how certain cultural forms coalesce with others just because they are imbued with new meanings in different settings or because they have become relevant as a result of the desires for acculturation within a cultural space.

Expatriated artists are often burdened by the persistence of memory. In fact, far more than their native compatriots. Sabzi is one of the artists in exile and his works are the lingering signs of an unshakable memory that constantly evokes a romantic vision of the past. His relation with his adopted land is just as mythopoeic and mythic based as his memory of his homeland. His images are the conflation of the various strata of linguistic and image recollections selected from a historical pile that not only drives his compulsion to paint but also expands the horizon of our view of cultural interactions. Ancient and modern run together and do so by random assimilations. Thus the works are polyphonic with distinct memory layers and distinct music of their own. And here our ability to separate the real and the imagined; the real and the art becomes at times almost impossible.

The question is what results from these random juxtapositions? Primarily it is an act of shattering the assumed unity and purity of life and asserting the unpredictable flow of energies across borders and time zones. The result, as in the works of a few others, is fact and fiction in the same space, reality and myths embodied as one. But above all his art is about a universe where unrelated strata merge and confrontations with reality and facts turn into literary exercises. Above all Sabzi's art liberates the image from the syntax that creates meaning within it. This liberation is ultimately the open-ended play of signs and symbols far beyond what is on the canvas.

Mahmood Sabzi attended the University of Jundi Shapoor completing a Bachelor of Science degree in Agricultural Engineering. After the devastating Iran – Iraq war, he moved to Hamburg, Germany in 1984, where he lived, studied and worked for seven years before moving with his family to Southern California in 1991. He exhibited widely in the USA, Europe and Iran and his works are held in the Los Angeles County Museum, the Tehran Contemporary Art Museum as well as private collections worldwide.


©Abbas Daneshvari, PhD, Professor of Art History, CSULA, Excerpt from Abbas Daneshvari article, Elusive Recollections:The Art of Mahmood Sabzi, 2016. All rights reserved.
In association with Janet Rady Fine Art, London. For further information about Mahmood Sabzi's work contact

[email protected]
Mahmood Sabzi
Green Liz, 2016
Acrylic and ink on canvas
H1000 mm x W1000 mm