< Back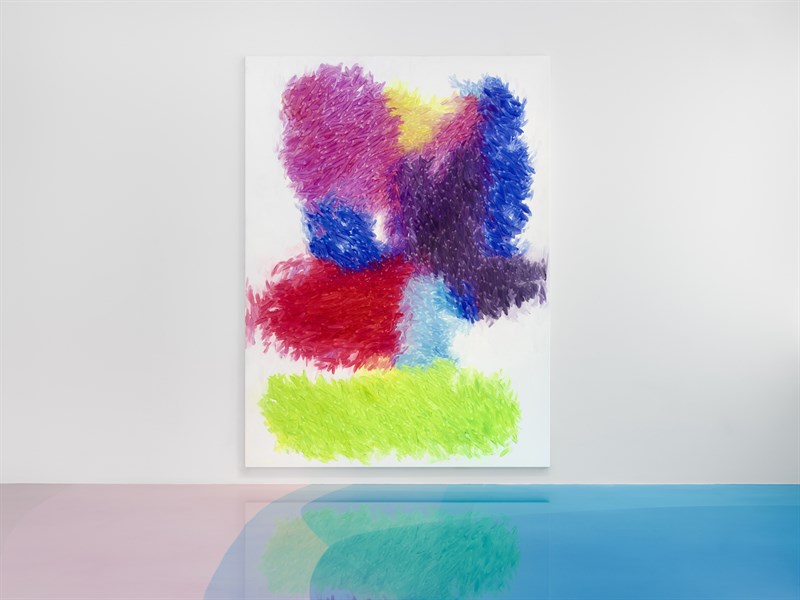 Freiburg School - Artist in Focus - Peter Zimmermann - June 2016
The exhibition Freiburg School presents the new body of work by the artist Peter Zimmermann. He is an outstanding exponent of conceptual painting. His work has a rigorous theoretical underpinning and gives rise to paintings of immense visual power. Zimmermann has been exploring the potential of painting ever since the mid-1980s. He is particularly well known for his often large-format paintings which he makes by manipulating digital templates – be they photographs, film stills or diagrams – with the aid of computer programmes and digital filters, duly transferring them onto the canvas in several layers of transparent epoxy resin. This method gives rise to stunningly colourful, abstract paintings.

In the exhibition Freiburg School, Zimmermann has radically transformed the rooms in the museum to create a single integrated, walk-in work in which the floor becomes a canvas, the exhibition venue a colossal spatial frieze. The focal point of the exhibition is the place where two distinct groups of works confront one another: the epoxy works on the floor made especially for the exhibition and a series of more recent oil paintings on the walls, which are being shown in this configuration for the first time. Compositionally, the paintings on the walls were made using a similar manipulation process as the works in epoxy.

Freiburg School revisits the museum's previous incarnation at the beginning of the twentieth century as a girls' school. The title also draws on biographical material, but at the same time, the school metaphor refers to everything unknown, still to be learned, the new.

Peter Zimmermann was born in 1956 in Freiburg and grew up in the Black Forest. After graduating from high school, he left the region in order to study at the Stuttgart State Academy of Art and Design, being taught there by K.R.H. Sonderborg, among others. Towards the end of the 1980s, Zimmermann moved to Cologne (his adoptive home to this day), which was a pulsating nexus of art production and theoretical discourse on contemporary art at the time, ultimately taking up a teaching post at the Academy of Media Arts there. Consequently, Zimmermann's development as an artist didn't actually take place in Freiburg and environs. His prolific career includes countless international exhibitions at museums and art galleries, his works are held in major collections worldwide. His current exhibition Freiburg School, at Museum für Neue Kunst Freiburg, closes on the 19 June 2016.

©Christine Litz, Peter Zimmermann, Thorsten Schneider and Bernhard Strauss (photography).
Heu, 2015