< Back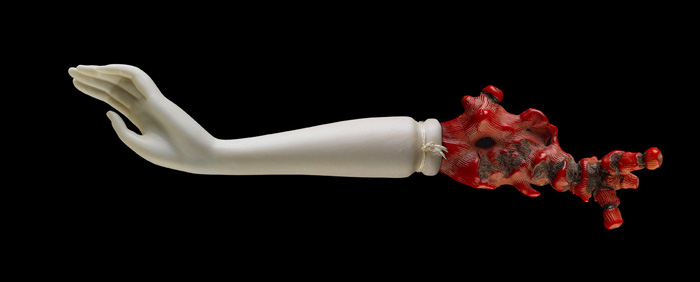 Artist in Focus - Sarah Danays - October 2014
Sarah Danays' sculptures emerge from jet-black darkness. Broken and fragmented antiques from different countries, cultures, centuries and religions are assembled in a surgical manner with found objects from nature and her hand-carved marble and alabaster body parts. These distinctive components form a unique fusion of energies and symbols, and create entities which are altogether new and whole.

As a counter to the ancient objects and carving technique, Danays uses sophisticated photographic equipment and methods to meticulously capture her allegorical sculptures. The resulting chromogenic prints are as arresting in both small and large formats. Photographing her sculptures in this way allows her to play not only with scale and synergies, but also to express personal narratives and to explore philosophical ideas.

The long journey to create each limited edition C-Type print, from hand carving to twenty-first century image-making begins with Plato's Theory of Forms, accelerates with Baudrillard's Hyperreality and ends with Harman's Object-orientated ontology.
"More than anything Sarah Danays work impresses me because of its ability to gain sweeping significance through a meticulous care for detail applied to idiosyncratic particulars."
Dr Ken Arnold, Head of Public Programmes, Wellcome Trust, London
Sarah Danays and Renée Pfister, October 2014
For further information about purchasing Sarah Danays work contact:
[email protected]
Sarah Danays
Tourniquet, 2007
C-type print aluminium mounted
with laminated gloss finish and shadow box.
Large format. H607 mm x W1524 mm x D51 mm x 2.
Small format (2014), edition of 10. H121 mm x W305 mm x D51mm x 2