< Back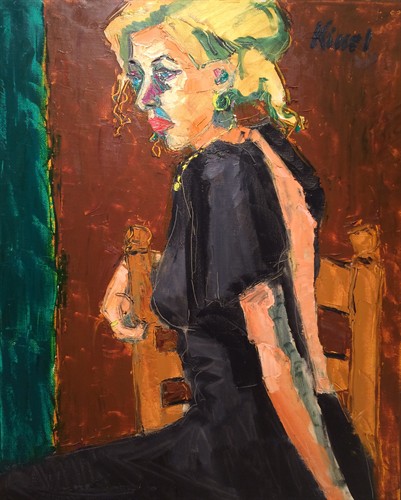 Celebrating Figuration & Abstraction
Celebrating Figuration & Abstraction is an exhibition collaboration between Vera Schuhmacher Fine Art and Renée Pfister Art & Gallery Consultancy, London.
The exhibition presents works by the British abstract painter Pip Dickens and the German neo-expressionist painters Elvira Bach and Gernot Kissel. Whilst each artist has a different painterly approach, the themes that bind these selected works are interpretations of femininity and female representation.
Elvira Bach's self-portraits represent the artist in domestic settings. Bright colours and energetic strokes are the trademark of her distinct visual voice, which propelled her to a key member of the German art movement Jungen Wilden, the Young Wild Ones.
Pip Dickens abstractions derive from different sources. Literature, film and Far Eastern culture are utilised reflecting upon female characters, fabrics, motifs and patterns, creating a captivating ocular experience within the picture plane through surface interest and cinematic letterbox formats.
Gernot Kissel is an artist steeped in the tradition of 20th century German expressionist painting. Black contours outline his depicted heroines, highlighting the female form and their fleshly vigour.
In spite of the contrasting styles and techniques the presented artworks allow comparing variations and associations within this imaginative group.
Renée Pfister, October 2014
CELEBRATING FIGURATION & ABSTRACTION
Elvira Bach - Pip Dickens - Gernot Kissel (1939 – 2008)
Monday 3 November 2014
18.30 – 21.00
at the Foundry Gallery
39 Old Church Street, Chelsea, London SW3 5BS
Exhibition 4 - 15 November 2014
S P E C I A L E V E N T S & T I M E S

Opening Monday 3 November 2014, 18.30 – 21.00
Wednesday 5 November 2014, 19-00 – 21.00
Late night opening with talk by Art Historian Vania Barozzi
Wednesday 12 November 2014, 19.00 – 21.00
Tribute to Kissel by Vera Schuhmacher
Closing event, 15.30 talk by Exhibition Curator, Renée Pfister
Saturday 15 November 2013, 12.30 – 17.00
PRESS ENQUIRIES: Renée Pfister, 07773 360187
Please email RSVP stating the event you wish to attend
[email protected] or [email protected]
General opening times: Monday – Sunday 12.30 to 18.00
Gernot Kissel (1939 - 2008)
The Blond, 1999
Oil on canvas
H1000 mm x W810 mm