< Back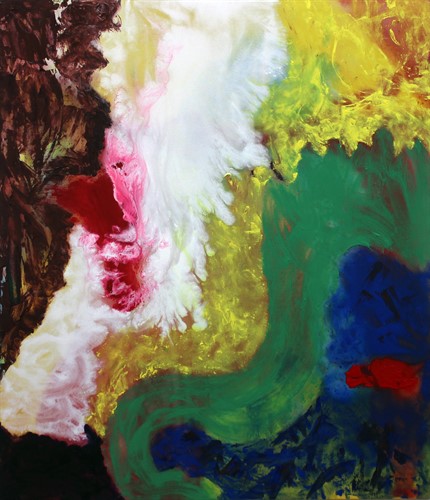 Visual Metaphors - Paul Tonkin - Artist in Focus - February 2018
Fluidity, dynamism and vividness are the three most prominent elements in Paul Tonkin's work. "It's like destroying and creating at the same time", he muses, as he is in the process of live-painting and being interviewed by the art critic Matthew Collings for a BBC4 documentary.
http://www.bbc.co.uk/programmes/p0260rbg/player
Tonkin's visual metaphors begin to exist by flinging bright colours onto canvases. Different hues remain either monochromatic or merge, controlling the appearing images. The results seem improvised and accidental. But, there is much more to his painterly approach. Once the shades have dried Tonkin immerses himself into the colour splashed canvases. Like a sorcerer he cuts-up the prepared surfaces and breathes life into his vibrant composition, reclaiming hidden secrets. Abstractions, forms and lines emerge, evoking close-ups of foreign terrains. It is their lush and exotic presence that draws us. Light and bright silhouettes are displayed prominently in the foreground, whereas the darker and often muted shades exude mystery and depth.
Facing Tonkin's wild paintings, we enter a journey into the unknown and unexpected. Each canvas is invigorating and bids for our attention. His creative process begins as an action painter, but then his method turns into contemplation, drawing on his imagination while working the painted surfaces; it is a nod to the laudable 1940s – 1960s New York School. These two essential modes lead to Tonkin's own search for expressiveness. To him, the subject matter is of secondary concern, the emphasis is on colour, form and the viewer's own interpretation.
Tonkin's accumulated body of work is a manner of documenting the infinite manifold of nature and being. His striking irregularity presents part of the greater whole appertaining to the human experience.
Born in 1951, Paul Tonkin is an abstract painter who has been active for over 40 years. He has exhibited in many well-known institutions across the United Kingdom, such as the Whitechapel Gallery, the Serpentine Gallery, the Royal Academy of Arts, the Hayward Gallery and more recently at the APT Gallery in London.
Courtesy and ©Paul Tonkin and Renée Pfister (text), 2018. All rights reserved.
Video: Courtesy and ©Paul Tonkin, BBC Four, Matthew Collings, Renée Pfister (text), William Ross, 'Chernoff's Nomads' (music) with the assistance of Eleonora Guidi, 2018.
Riternello, 2016
Acrylic paint on canvas
H1800 mm x W1550 mm