< Back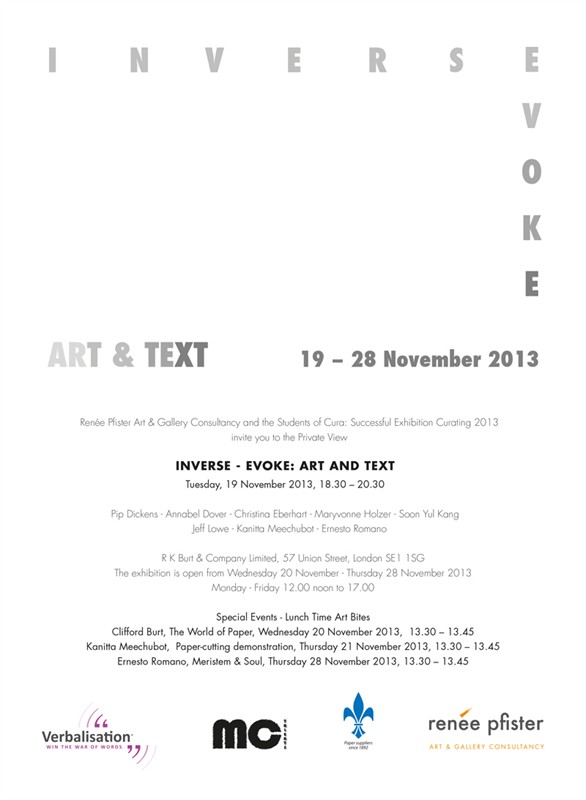 Cura: Inverse - Evoke: Art & Text
Inverse - Evoke: Art and Text presents the works by eight contemporary artists: Pip Dickens, Annabel Dover, Christina Eberhart, Maryvonne Holzer, Soon Yul Kang, Jeff Lowe, Kanitta Meechubot and Ernesto Romano. Each artist uses paper as medium and applies different techniques and skills to create their unique depictions. The presented works were selected by students of this year CURA: Successful Exhibition Curating 2013, course. The group has chosen a number of Haiku poems and Taoist quotations complementing works on paper with text to reference civilisation. The exhibition invites visitors to explore the juxtaposed artistic expressions with wordings from different eras and cult, offering a poetic and imaginative journey.
Private view: Tuesday, 19 November 2013, 18.30 – 20.30
Exhibition dates: 20 November – 28 November 2013
Monday - Friday 12.00 noon – 17.00
The exhibition Inverse - Evoke: Art and Text is accompanied by a number of lunch time art bites.
Clifford Burt, The World of Paper, Wednesday 20 November 2013, 13.30 – 13.45
Kanitta Meechubot, Paper-cutting demonstration, Thursday 21 November 2013, 13.30 – 13.45
Ernesto Romano, Meristem & Soul, Thursday 28 November 2013, 13.30 – 13.45
We would like to thank
MC Talent London
R. K Burt & Company Limited
Renée Pfister Art & Gallery Consultancy
Stuart Hillcock Footprint Design Ltd
Verbalisation London
©Renée Pfister