< Back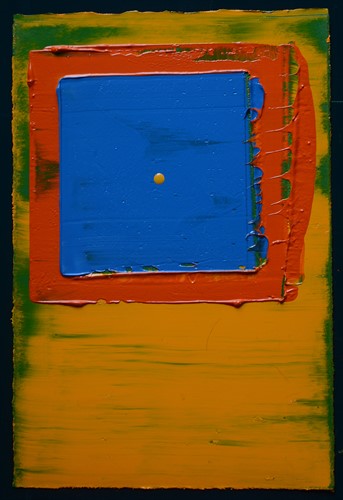 Impermanence - Marcus Hodge - Artist in Focus - August 2018
2017 was a crucial year for the British painter Marcus Hodge, he made an audacious move re-inventing his painterly progression. Well-known for his portraits, landscapes and equestrian canvases he radically changed his painterly style. Inspired by his visits to India, Hodge created a suite of new paintings, where energetic strokes embrace densely worked hues, claiming presence and void. His new-found artistic vernacular transformed his work from figurative to abstract-intuitive, mesmerising the eye and spirit. Both the Gateway and Tantric series bear witness for his deep interest in the country's rich cultural and artistic heritage.
Hodge's painterly approach is deeply entrenched in Indian life where he explores the dynamic play of the human predicament and the symbolic meaning of colours. The large slabs of red in India signify vigour and life, it is a colour of union and commitment between two people and often used in Indian weddings. White, the absence of colour, is worn by widows indicating death, but also peace and purity, diametrically opposed to red; the two shades interplay between togetherness and separateness all held between two bands of turmeric yellow, a pigment used to convey knowledge, meditation and mental development. The Gateway series also reference the enormous socio-political changes in India after post-independence as well as the concept of change, that things can become something completely different. For Hodge, these universal and esoteric elements are of utmost importance.
Threshold is a sculptural continuation of his iconic Gateway sequence. His three-dimensional objects are made of found materials, they are moulded together, representing his artistic advancement and the idea of transformation. The square embodies the earth bound whereas the circle or Hindu 'Bindi' drop represents the heaven bound. Both forms are used in the architectural construction of temples and reference these principles. Day in day out, we enter spaces through doors and gateways without much thought, a passage from one place to another. As a metaphor, the gate refers to transition, taking us to new grounds or beyond who we are - the eternal cycle of life.
Hodge applies a similar tonal palette and technique in his Tantric series and re-occurring emblems, but it is the 'Bindi' drop that provides a focal point, holding the painting's energetic surroundings and imbuing a sense of stillness despite the intense deployment of colour. It is also said that 'Bindi' signifies the third eye in Hindu religion, warding off bad luck. These viewpoints are rooted in the East; however, Hodge's execution is bold, western and gestural, an expression that describes the application of paint in unrestricted and widespread movements with a brush or spatula. The narrow simple format conveys the qualities of paint and the infinite variety in repetition. Imagination and process are pivotal to Hodge's artistic practice, combined with the intense use of colour, controlled and loose mark-making techniques, he so eloquently and freely applies. His method of execution with a variety of tools means that these representations are always unique.
Marcus Hodge's new body of work has been shown at Rountree Tyron, London in 2017 and at the Henley Jazz Festival 2018.

Courtesy and ©Marcus Hodge and Renée Pfister, 2018. All rights reserved.
Video: Courtesy and ©Marcus Hodge, Renée Pfister and Ben Sound (music) with the assistance of Galina Matveeva, 2018.
For further information about Marcus Hodge's work contact [email protected]
Marcus Hodge, Tantric 24, 2018, oil on paper, H290 mm x W190 mm