< Back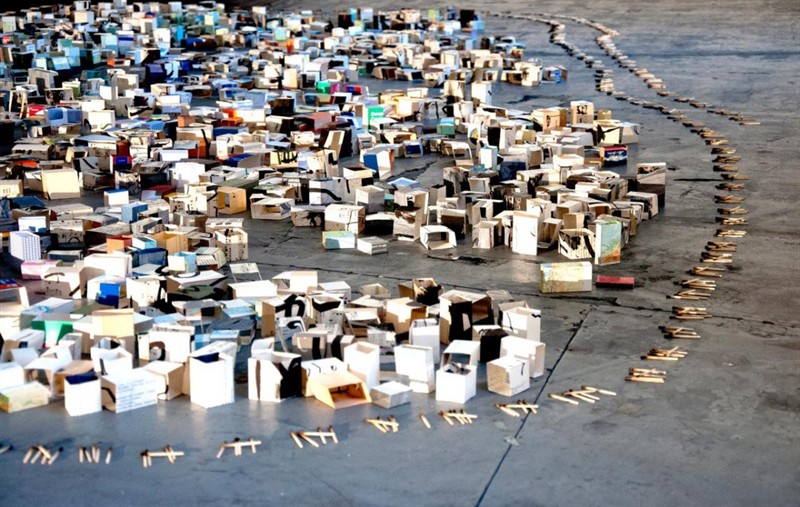 Issam Kourbaj - Shubbak Festival 2015
Cambridge-based artist Issam Kourbaj hauntingly evokes plight of his fellow Syrians in scattered refugee camp installations as part of London-wide festival, Shubbak: A Window on Contemporary Arab Culture.
Taking the title of a Fairouz song, these five installations by Syrian-born, UK-based artist Issam Kourbaj are inspired by and based upon refugee camps. Each installation is constructed from imagined camp waste products, such as educational material, books and medical packaging, and is encircled with a fence of 1,579 burnt matches. The matches, which increase in number over the course of the exhibition, count the irretrievable days since the Syrian uprising (15th March 2011).
By repurposing discarded materials and extinguished matches, Kourbaj laments not only the loss of time, normality and everyday life for Syrians everywhere, but also the poor quality of life experienced by his compatriots in their displacement. The installations are scattered around central London, in a pattern that loosely relates to the diaspora of refugee camps that have arisen in the countries bordering Syria over the last four years. " I am counting the days since the uprising; it is more than 1500 days and I am still counting. My homeland, 'the country formerly known as Syria'* is torn apart; its cities are turned to dust, millions of my fellow Syrian families, women and children are daily forced to flee this largest humanitarian crisis in the world.
Though life continues in refugee camps throughout the region, with the help of many generous organisations such as UNHCR and MSF and others, the displaced millions now bear a lasting trail of visible and invisible scars caused by the conflict, the separation from their homeland and the scars of permanent loss. Over the last four years, I have witnessed from this painful distance the way these vulnerable human beings are waiting in makeshift shelters they call home, and I fear for their lives are on hold and many are becoming citizens of a tent. "
Issam Kourbaj was born in Syria and studied art in Damascus and St Petersburg, before settling in the UK. He currently teaches at the University of Cambridge, where he is a Lector in Art at Christ's College. Since the 2011 uprising, Issam has been making work based on the horrors of the war in Syria, raising awareness and money for projects and aid in Syria. Members of the public can buy the catalogue of Another Day Lost at each location. Proceeds will go to MSF and UNHCR. Visitors will also have the opportunity to donate to these charities directly, as well as to preorder artworks to be made out of these installations after the exhibition finishes.
Another Day Lost is exhibited as part of Shubbak, the UK's premier festival of contemporary Arab culture, presenting outstanding international Arab artists to London audiences and communities. Taking place from 11–26 July 2015 in venues across London, Shubbak provides an opportunity to engage.
© Louisa Macmillan and Issam Kourbaj 2015