< Back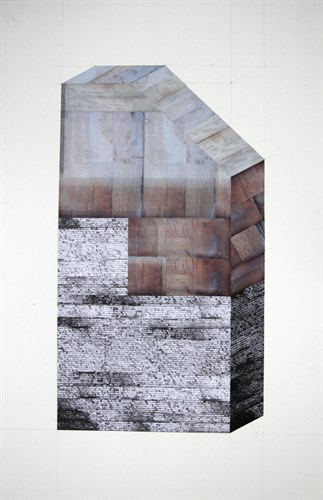 The Visual Language of Space - Anne Harild - Artist in Focus - September 2017
Anne Harild is a Danish artist who creates film animations, site-specific installations and collages.
She investigates the inherent use of architectural structures and their physical appearances in her work. Informed by the urban and natural environment she plays with grids, lines, angles, geometric shapes and textures, resulting in constructions we see, experience and encounter in our cities and open expanses.

Her two-dimensional collages are in particular intriguing. Finely cut stripes of paper are immaculately fitted together, representing architectural assemblages. The paper she uses has different colours and patterns, enabling Harild to create unusual textures. Often her single or multiple building blocks convey strength and an earthly intensity, drawing attention to their static and compact physiques. In contrast, her twig like constructions conveying a state of flux, signalling incompleteness.
During her residency at the Florence Trust in St. Saviours Church in Highbury, London, she created the 6.17 minute animation Looking Glass. Harild was interested in exploring the relationship between the small temporary structure which she had built from discarded window panes and the vast permanent edifice of the church. The process entailed rehearsing the movements of the glass sheets and experimenting with the reflections over a period of months. She then eventually filmed the animation over 24 hours examining how the changing light transformed the space.

Harild collaborated with the composer Edmund Finnis, who create a soundscape in response to the materials used in the film, during this project. He recorded the striking of glass and manipulated the sound digitally afterwards. The reason for this working partnership was to explore similar interests and the same materials in two different media to investigate how they complimented each other.
Both artists expressed their creative approaches in the context of St Saviours Church, by taking the space over and giving it a new significance. The subtle interplay of sounds and images remind in some way of surveillance-camera footage. Moving glass panes immersed in a play of light from which walkways, columns and corners emerge, draw attention to the hidden. Harold's visuals are emphasised by Finnis's striking of glass, leaving the viewer in suspense.
In 2014, Anne Harild developed the project Tracing the Line with Art on the Underground, in collaboration with four London schools. After a process based exploration of four London tube stations with the young people, she created a series of images depicting physical structures in response to their findings and experiments.The works were installed at Canning Town Station, Charing Cross Station, Earls Court Station and Hounslow East Station, in London.
Anne Harild was awarded her MA in Communication Art and Design, in 2008 from the Royal College of Art, London. Since then she has developed an esteemed career and worked on numerous solo projects, residencies and exhibitions. Projects and works include: Sites and Structures, Cultural Centre Tobacna 001, Ljubljana, Slovenia in 2016. We Approach – a temporary public sculpture for The Bluecoat's front courtyard, Liverpool, 2015. Tracing the Line, Art on the Underground, London, took place in 2014. Artist in residence, Eventide, 7th floor QEQM building, St Mary's Hospital, London, including a solo exhibition of the work created during her residency. In 2009, Assemblages - 1-3, Exhibition Road, South Kensington, London. Harild has been invited to present her work in group shows and her animations have been screened internationally. She has held collaborative workshops in London, at Zabludowicz Collection, South London Gallery, Camden Arts Centre, Tate Britain and Frieze Art Fair. Her work is held in private collections in the UK and abroad.
For further information about Anne Harild's work contact
Courtesy and ©Anne Harild, Edmund Finnis (sound for Looking Glass) and Renée Pfister (text), 2017. All rights reserved.
Relief series #1, 2014