< Back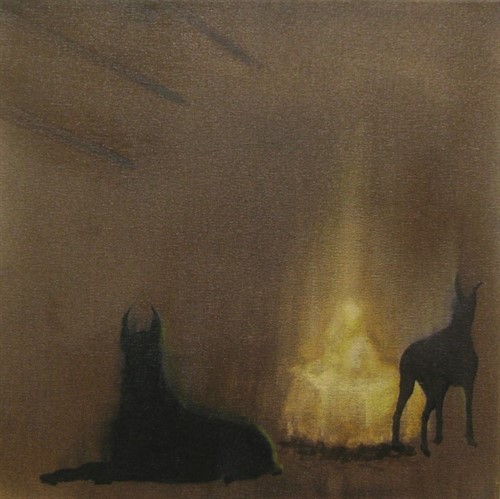 Las Meninas - Pip Dickens
In November 2017, Pip Dickens' solo exhibition Mirrors began an exploration into mirrors and reflections. Some of these paintings considered the painted portrait as a kind of mirror, or the experience of self-reflection and analysis and questioned the contemporary urge to check one's existence with a selfie. The resultant exhibition was a strange grouping of paintings that offered a variety of portals that might exist for us to climb through and view ourselves or others from differing perspectives, familiar and unfamiliar.
'Las Meninas' is one such environment – a puzzle picture that teases and seduces. When Foucault says of it: "But it isn't a picture; it is a mirror" what can be reflected are a range of interpretations – a virtual unreality perhaps.

The painting in this exhibition is one of three, small 'propositions' that relate to the great work. They pick up on an idea from the Mirrors exhibition, namely a painting entitled 'Dreaming Girl 3 (Infanta)'. Margarita Teresa was married off to her Uncle and first cousin, Leopold I: Holy Roman Emperor, King of Hungary, Croatia, and Bohemia at the age of 15 and died at 21 years following illness and weakened by four childbirths and miscarriages. From an early age Velazquez had been commissioned to make portraits of Margarita Teresa both for the court and to send to the court of Leopold, as early as 1653 when Margarita Teresa was just 2 years old ('Infanta Margarita Teresa in pink dress).

Dickens response to 'Las Meninas' is the focus of the guarding of the precious political chattel - Margarita Teresa -. Are they benevolent guards or wardens – caring protectors but charged with her restriction? Just as the fashionably exaggerated guardainfante, a bulkier-style farthingale of French origin, imprisons the little princess, the restriction of space, reach and isolation are contained within this silken cage.

The more Dickens studied this painting, the less she saw a painting of privilege and care, rather, a holding cell populated with amusements and distractions. In her visual interpretation the young princess custodians are transformed into Doberman Pinschers a renowned breed whose qualities are intelligence, fearlessness, loyalty, obedience and above all the most vigilant guard dog.
Courtesy and ©Pip Dickens, Renée Pfister Art & Gallery Consultancy, London. 2020. All rights reserved.
Pip, Dickens, Las Meninas, 2020, oil on canvas, H405 mm x W405 mm