< Back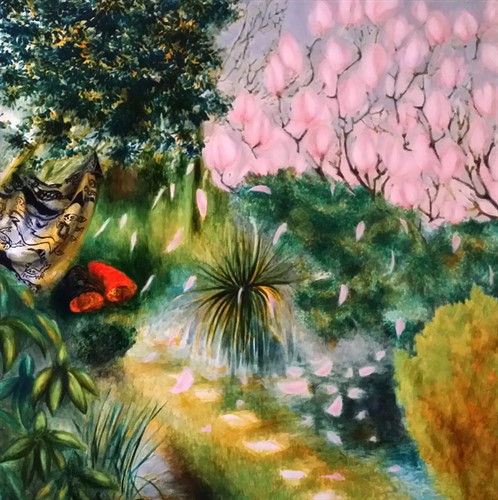 Magic Summertime
Diana Krilova's recent paintings are an examination of both motherhood and nature. They embody her delight of combining maternity with creating alluring sceneries. Her artistic practice is simple, she watches her children frolic and sketches, photographs and does primary research on location. Initial ideas are translated into monotone illustrations either in red or yellow oil on canvas, which then evolve into larger scale colour representations.
After becoming a mother in 2011, Krilova re-invented her painting style and adapted her colour palette to those more frequently seen in paintings made by children. Bright colours and multiple point perspectives craft an atmosphere of magic – propelling the viewer into slow paced surroundings. Following paths among shrubs, picking flowers and climbing trees offer new narratives; in this way her landscapes become an intimate experience. Krilova's oeuvre compels us to slow down, to look around, to breath in and out, to remember how to perceive the countryside in the way children do - opened-eyed and full of wonder.
Lush green foliage, interspersed with flowers, winding footways and playing families draw us into Krilova's secret world. She relishes her kids' adventures and prefers to capture the spirit rather than a perfect picture of outdoor pursuits. Her unique approach to British gardens and landscape is imbued with an exotic charm, unearthing a range of reactions and emotions.
Motherhood is a recurring topic in Krilova's opus. She currently works with the Courtauld Institute documenting her drawings for a publication A Diary of a Mother, which includes day-to-day illustrations and stories children tell each other during recreation. Krilova has more exciting projects in the pipeline – no doubt we will read about her new ventures.
Born in Russia in 1978, Diana Krilova has been based in the UK since 1993, and currently works in London. With her background in fine art and anthropology, Krilova's previous work addressed scenarios of the everyday, of misunderstanding based on cultural backgrounds and displacement. She has had solo exhibitions at Liverpool Biennale, 2004 and 2006, 5th Base Gallery London, 2017 and 2018, led workshops at Tate Liverpool in 2005 and worked on international projects in France and in Spain 2006 and Latvia in 2007. Her paintings are held in major international corporate, private and public collections.
Newsletter: ©Diana Krilova and Renée Pfister (text), 2019. All rights reserved.
Diana Krilova, Splash 2, 2018, oil paint on canvas, H600 mm x W800 mm