< Back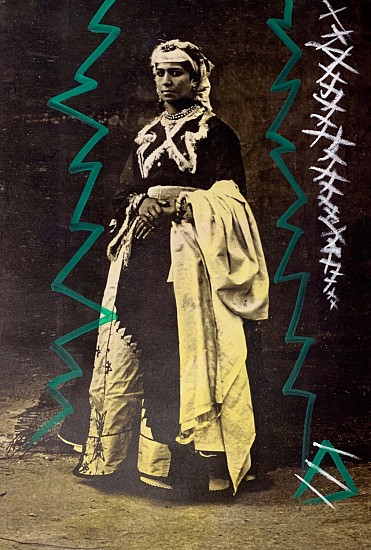 Belonging - Firouz Farman Farmaian - Artist in Focus - November 2019
Firouz Farman Farmaian's oeuvre explores memory and identity. He contemplates his family's escape from Iran. They were exiled with him to Paris when the last King, Shah Mohammad Reza Pahlavi was ousted in the 1979 Iranian revolution, in a quest to form a life outside of everything they knew, hoping for a better future.
Living suddenly in an unfamiliar Western society, attending school in Paris and making new friends must have been a challenge and an unusual and bewildering experience for the young Farman Farmaian. France has profoundly influenced both his creative practice and character. "It is a circumstance that ultimately shapes lives," says the artist, whose work actively pursues engagement in a dialogue with the past, where memories of bygone events and happenings provide a sense of personal identity.
The Talisman series, his latest body of work, reflects upon the Berber tradition in Morocco, a country and a tribe he has grown fond of, reminding him of his own Persian heritage. Peeling back layers of episodic reflections enables him to re-connect with his personal history, a similar ethnic group, lifestyle and spirituality to that of the Berbers. The compositions have profound symbolic qualities and convey a spontaneous energy: they unite common motifs of movement and texture, based on customary workmanship. Each work is the result of a careful choice of techniques, tools and materials to achieve an exceptional aesthetic with an emotional intention.
Farman Farmaian has studied North African Amazigh tribal fabrics in depth - they underpin his ongoing enquiry into place and identity. He paints on Berber tent cloth which he embroiders with wool, representing patterns referencing the mythology of the Moroccan Rif weavers. The simple signs narrate metaphors of ancestral paths travelled and beliefs practised, through which the artist attempts to process the past and present. Being a migrant himself, he understands the significance of place and belonging, a primal need fundamental to the welfare of humankind. In fact, Farman Farmaian traces the waves of uncertainty and tides of our time, conveying the unending migrant tragedy.
Firouz Farman Farmaian studied at Ecole Spéciale D'Architecture, previous to this he attended ESAG Penninghen, Paris, France, and lives and works in Marabella and Marrakech. Key solo exhibitions included in 2019 Salucci House, We R The Nomads Agency, Fabien Fryns Fine Arts, Fru Tholstrup, La Zagaleta, Spain; Permanence of Trace, We R the Nomads Agency & Space @50, London, UK; Poetry of the Tribe, Leonard Tourné Gallery & Salomon Arts Gallery, New York, USA took place in 2018 along with Naturescapes, Syra Arts Gallery, Washington DC, USA; Chapel Series, The Chapel by Fabien Fryns Fine Arts, Marbella, Spain; Tehran Lovers, Artscoops Platform, Beirut, Lebanon. 2017 encompassed Nomadic Displacement, a site-specific installation, Marrakech Museum, Marrakech, Morocco; Strata Exhibit, Golan Rouzkhosh Gallery, Hamburg, Germany along with further solo exhibitions and numerous international group shows.
His work is held in the following private collections and foundations: HIH Farah Diba, Mr Mohammad Afkhami; Count and Countess Gerasimus Claudio Marianti Camerata di Pergola; Countess Gunilla Von Bismarck, Prince Chahram Pahlav, Fondation Behnam Bakhtiar, Fondation Benjelloun, Marrakech Museum, Ali-Reza Pahlavi Foundation; Mr Kami Diba, Magic of Persia Foundation; Iran Heritage Foundation and Miss Christiane Amanpour.
For further information about Firouz Farman Farmaian's work contact

[email protected]
in collaboration with Janet Rady Fine Art
Newsletter: ©Firouz Farman Farmaian and Renée Pfister (text), 2019. All rights reserved.
Firouz Farman Fairmaian, Portrait of a Berber Woman, 2019, inkjet print on canvas, edition of 3, H1000 mm x W700 mm