< Back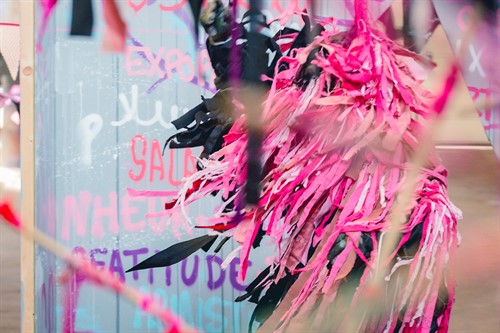 Non-Violence & Peace - Matthieu Exposito - Artist in Focus - November 2018
Matthieu Exposito is concerned with social issues in our society. He expresses his observations through drawings, installations and performances, with the aim of transforming human aggression into a state of serenity and an attitude of tolerance to promote non-violence and peace.
https://vimeo.com/299093510

'Pacifist Divergences' is a series of drawings depicting imaginary and weird-eyed creatures holding love-hearted flags. They are sequential juxtaposed panels that represent individual scenes of a narrative. According to Exposito these beings portray to the viewer the wreckages of their isolated and alienated existence and make reference of his personal societal observations. To him, the sensibilities that emanate from theses illustrations demonstrate encouragement and the hope of a better future, as well as epitomising the unity of people.
There are two recurring colours in Exposito's work 'pink' and 'black'. He associates 'pink' with society's healing, whereas, 'black' represents the dark side of human power and a lack of wisdom. In the piece 'Expopaix' an invented shaman performs dressed in black and pink, interacting and captivating the observers with spectacle and laughter's as well as encouraging his audiences to air their feelings. During this twenty-seven-minute performance he acts like a healer, urging open-mindedness as an act of humanity.
In 2016, Exposito created 'Expopaix's Hut', an ephemeral structure, modular and adaptable, made of bamboo, wool and black surfaces. This tent-like construction seems always unfinished and changing as it becomes a gathering point of non-violence. Exposito therefore invites individuals to share their experiences and ideas. In addition, this 120 m² make-shift space is utilised for the display of his artworks.
Exuding mysterious power, Exposito's land art installation 'Exspoir' was created in 2015, in the forest of 'en Lorraine'. Seemingly a place of worship for the shaman 'Expopaix', where he focuses on his spiritual and devotional practices; communicating with the heavens, feeling the interconnectedness of things, whilst understanding the law of cause and effect.
Matthieu Exposito is an extraordinarily enigmatic artist, whose work continues to invite our attention. His artistic practice is testimony to an imaginative mind that leaves us pondering on the many different aspects of his creative manifestations, which are characterised by ambiguity, boldness and dichotomy. Exposito has exhibited widely, and his work is held in collections worldwide.
Courtesy and ©Matthieu Expositio and Renée Pfister (text) 2018. All rights reserved.
Video: Courtesy and ©Matthieu Exposito, Renée Pfister (text), Shamanic Journey Rhythms Volume 2, Michael Drake (music) with the assistance of Galina Matveeva, 2018.
For further information about Matthieu Exposito's work contact [email protected]ter-consultancy.co.uk