< Back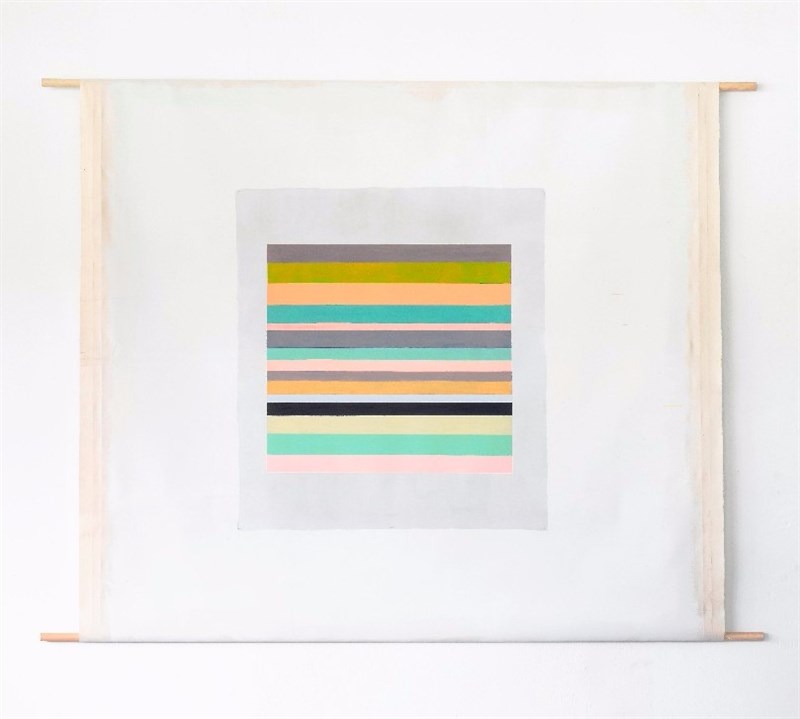 One-Single-Artwork-Show #4 - Artist in Focus - Susanne Jung
The 4th One-Single-Artwork-Show on 08 December 2016, presents the painting Mogao 21, by Susanne Jung.
Stripes – cross-ways and length-ways – laid down in subtle colour sequences, glow from within, continuously shifting the parameters of perception into new variations. Apparently fixed expanses of colour open up to both sides – background depths meet foreground luminescences, and vice versa; horizontal and vertical, diffusion and extension, intersect with each other. Are these pictures transparent or translucent, should the gaze be oriented inwards or outwards? The visual field is a vibrating structure of distinct values and weights. Alongside stand seemingly monochromatic fields that grow hazy. Glazes are layered upon one another, covering and nonetheless revealing what they obscure. Gleams shimmer faintly through the surface, floating like coloured veils. (Karin Stempel)

Susanne Jung studied from 1994-1999, at Hochschule der Künste HDK Berlin and was in 2000 Meisterschülerin of Frank Badur. In 2014 she received the residency-stipend in Mianyang, Sichuan, China and in 2016 a stipend from Stiftung Kulturfonds, Berlin, Germany. Her work has been exhibited at Museum for Contemporary Art Urümqi, Xinjiang, China; Vasarely Museum, Collection Grauwinkel, Budapest, Ungarn; Kunstverein Glückstadt, Germany; Kunsthaus Ahrenshoop, Germany; Kunsthaus Potsdam, Germany; Projektraum Frankfurt a.M., Germany; Goethe Institut San Francisco, USA; Metaphor Gallery, New York, USA; Times Square Gallery, New York, USA; Galerie Evelyn Drewes, Hamburg, Germany; Galerie Gilla Lörcher Art, Berlin, Germany.
©Susanne Jung, Gilla Lörcher, Renée Pfister and Karin Stempel, 2016. All rights reserved.
Susanne Jung
Mogao 21, 2015
Ink, oil paint on canvas
H2000 mm x W2200 mm