< Back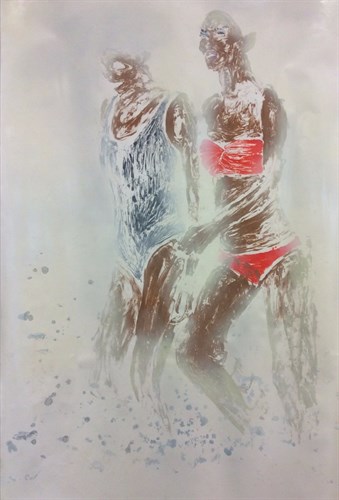 One-Single-Artwork-Show #5 - Artist in Focus - Iris Musolf
The 5th One-Single-Artwork-Show on 15 December 2016, presents the painting Untitled 2016, by Iris Musolf.

"I am fascinated by the functionalisation of the cult of the body. We are surrounded by the adoration of the unreal body and the simulation of pleasure. I ask myself why. To conceal something? To ban whatever is intoxicating, disinhibited, ecstatic, abhorrent of the body? In my opinion, pornography is certainly a part of this. "Sex sells. And so, every industry has become a branch of the sex industry," is how Laurie Penny formulated it. "My work expresses a perceived cultural trauma, whose symptom is the body".

Iris Musolf studied from 2002 to 2009 at Hochschule für Bildende Künste Braunschweig with Bogomir Ecker and Candice Breitz (Meisterschülerin) and also holds a Master of Fine Arts degree from Hochschule für Bildende Künste Braunschweig. She was awarded the Erasmus-Scholarship for Fine Arts, Nice, France, in 2005 and the Scholarship Intensive Program AKI ArtEZ, Enschede, Netherlands, in 2008. Musolf was nominated for the Karl Schmidt-Rottluff- Scholarship in 2011, for the Scholarship of Junge Akademie der Bildenden Künste in 2012 and for the Sprengel Prize in 2014.

Her works have been exhibited at Kunstverein Mannheim, Germany; Neue Galerie Landshut, Germany; Goethe Institute, New York, USA; Konsumverein Braunschweig, Germany; International Video Art Festival, Amsterdam und Starnmeer, Netherlands; Biennale für Junge Kunst Moscow, Tsaritsino Museum Moscow, Russia; Art Labor Gallery, Shanghai, China; Galerie Anita Beckers, Frankfurt a.M., Germany; Galerie Manzara Istanbul, Turkey.

©Gilla Lörcher, Iris Musolf and Renée Pfister, 2016. All rights reserved.
Untitled, 2016
H1700 mm x W2300 m