< Back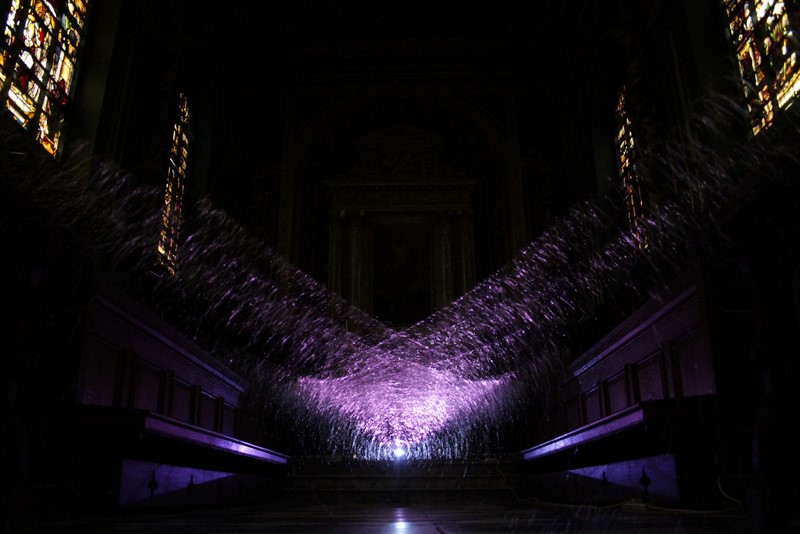 Order vs Chaos - Alexandra Carr - Artist in Focus - September 2019
Alexandra Carr is an international experimental artist working on a wide range of interdisciplinary projects in partnership with the Massachusetts Institute of Technology, Oxford University and Durham Universities. The work is a response to a range of patterns in nature, natural processes and phenomena, from
 magnetism, light, ice structures and dark matter. Her practice involves collaboration with experts and world leading researchers including engineers, chemists, geologists, cosmologists and theoretical physicists, such as Prof. Tom McLeish, Prof. Giles Gasper, Prof. Richard Bower and Dr Margarita Staykova. The work produced is experimental in character and includes installation, sculpture, kinetic works, drawing, photography, video and new media pieces. Of a specific focus is the intersection of art, science, nature and technology.
Her artistic approach involves empirical enquiry and promotes a repetitive methodology in the process of production. This is paired with the need to deliver an experience over an explicit intellectual offering. Carr surveys physical forces, prying beneath their manifestations to uncover the underlying complex 'blueprint' that connects us all to the cosmos. In quantum theory, it is said that superposition, a system of many potential quantum states, collapses as observation takes place. Our elusive grasp of the divine universal order leaves us the moment we attempt to capture the essence of it.
Exploring the complexity of symbiosis and connectivity, with an urge to reach for the intangible, Carr's oeuvre has developed a significantly mystical tone, demonstrating her curiosity and spiritual journey. Her work is an invitation for contemplation - a meditative tool - through which a person may gain illumination and reconnect with the universal order. Raising questions about our place in the cosmos, Carr invites viewers on a path of awakening and enlightenment. Captivated by humankind's quest to know the unknown, to see the unseen and to exist in the places in-between, she offers a fleeting comprehension of an unreachable place and state of being, present but not fully understood.
At first glance, the aesthetic of her opus is elegant and tranquil, on closer inspection a subtle mechanical order is apparent. Carr observes change over time and states: "A single, crucial moment of transformation highlights the fine threshold between order and chaos, a space where both conditions may exist at once, reinforcing themselves in each other through the constant tension of absence and presence".
With each new body of work, Carr learns and develops new techniques; from working with hot glass to manipulating the fluid dynamics of fog, and engineering bacteria to respond to stimuli. Her use of natural phenomena as media challenges the perception of our environment. She provokes change in the object and the viewer's perspective, in order to open a window into a world unknown.
After studying at Central Saint Martins (Fine Art Foundation, 2000) and Camberwell College of Art (Bachelor of Arts, 2003) in London, Carr exhibited at the Fondation Cartier in Paris, Pain Couture in collaboration with Jean-Paul Gaultier, in 2004. More recently, The Sea Cabinet, Snape Maltings and Wilton Music Hall in 2013, Innovation Society (NESTA), Autumn 2014 exhibition, London. She was appointed by the seminal band Radiohead, to create a commemorative sculpture for their longstanding staff. Her résumé includes being shortlisted for the [email protected] COLLIDE International Award 2016 and longlisted for the Aesthetica Art Prize 2017 and 2019. Carr frequently exhibits and works internationally including Struktur at the Verket Museum, Avesta, Sweden in 2016, at various project spaces in Iceland, where she presented Structures in 2014, Transitions in 2015 and participated at the light festival List í Ljósi in 2016. Furthermore, she spent six months at the artists' collective HEIMA, in Seyðisfjörður, as an artist in residence and mentor.
In 2017, the Arts Council commissioned Carr in conjunction with Ely Science Festival to produce her solo show Bodies of Movement, which was exhibited at Ely Cathedral. Furthermore, she was awarded a Leverhulme funded residency in Durham, titled Sculpting with Light, investigating medieval and modern cosmology in collaboration with physicists, historians and cosmologists. Followed by Suspensio at the Damon Wells Chapel, Pembroke College, Oxford in 2018, Empyrean, at Ushaw College, University of Durham 2018 - 2019 and Weight of Light, at York Festival of Ideas in 2019. In addition, she has presented papers at Oxford and Durham University and the Massachusetts Institute of Technology as well as taking part in panel discussions.
Presently, she is artist in residence at Josephine Butler College, Durham, working on Axis Mundi, a project that explores the connection between heaven and earth, the four cardinal directions, the elements and alchemy. From January 2020 onwards she will be a fellow of the Institute of Advanced Studies, to collaboratively produce biological smart materials.
Newsletter: ©Alexandra Carr and Renée Pfister (text), 2019. All rights reserved.
Alexandra Carr, Ether, 2017, nylon monofilament (15km), video projection, H2000 mm x W6000 mm x D12000 mm, installation view, Damon Wells Chapel at Pembroke College, Oxford.