< Back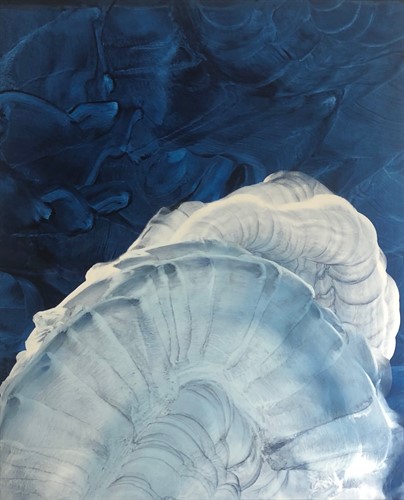 Otherworldly Abstractions - Joanna Jones - Artist in Focus - June 2020
I find artworks, especially paintings, most interesting when they seek to convey something
to the viewer that is not entirely translatable through language, or even reason.
When art fulfils its promise, it expands something within us, and it
offers some kind of truth – whatever construction that may be.
Daniel Richter, 2020
Joanna Jones' paintings are remarkably refreshing and uplifting. Her eccentric compositions where wondersome silhouettes emerge from the depth of the canvas capture the eye. No beginning no end - journeys paused in the stream of time – taking hold of us. Dazzling frottages from heavenly planes, powerful and beguiling, strike a chord with our deepest inner being.
After carefully mixing her egg tempera paint and applying it one layer at the time, Jones' herself transforms into a living brush. She tosses and hovers the coloured liquid with her naked body, creating otherworldly abstractions. Whatever happens on the canvas, she is the tool executing a mysterious mission. While her method gives the impression of being forceful the opposite applies, tenderness and intuition dominate her doings. Jones' confesses that she spends a lot of time as viewer of her own work, examining what she has created but not seen at the moment of making.
In the 20th century, the term "performative" permeated the discussions of contemporary art and aesthetics. Dorothea von Hantelmann remarks in her essay "The Experimental Turn", it is not about "defining a new class of artworks". The use of the term "performative" indicates the situational context of the artwork and its relation to the viewer, i.e. a shift of the viewer's attention from "what an artwork depicts and represents to the effects and experiences that it produces", offering a very different and interesting perspective to contemplate contemporary art. (D. von Hantelmann, The Experimental Turn, in: Elizabeth Carpenter (ed): On Performativity. Living Collections Catalogue, Vol.1., Walker Art Center, Minneapolis. USA 2014.)
Recalling Yves Klein Anthropometry Performance in 1960 at Galerie International d'Art Contemporain in Paris, where in the presence of selected guests and a full orchestra three naked models appeared, while Klein conducted the ensemble. As the symphony was performed the mannequins rolled themselves in the blue paint that had been placed on large pieces of paper. These artworks depicting blue impressions of the female form were then carefully displayed on the gallery's wall and floor area, opposite the musicians. However, Jones' approach differs in a number of ways, firstly her enacting takes place in private, in the absence of the voyeuristic male gaze. Secondly, her artistic endeavours result in obtaining textural effects or images by caressing with her own body the paint she pours on the canvas. Both Klein's spectacle and Jones' intimate happening are metaphysical and spiritual events.
Jones' has assigned her practice to the notion of performativity, exploring the connection of consciousness and the human body in her oeuvre. Initially, she received academic training in painting at the Royal Academy Schools in London. In 1970 she began to explore performance art, motivated by the desire to seek a practice where she could connect her emotions, perceptions and thoughts. After being engaged for over ten years in performance art activities, Jones returned to painting in the early 80ties. She started to use egg tempera as her primary medium in her paintings and developed her performative process, pursuing her passion for staging her painterly acts on canvases.
Joanna Jones lives and works in Dover, U.K. Following a foundation year at Northwich College of Art, she continued her studies in London at the Byam Shaw School. She received her National Diploma of Design in painting from Goldsmith`s College and graduated from the Royal Academy Schools in 1970. Jones is a recipient of several art awards including the first prize in the Greater London Councils painting competition (1969), a scholarship from Künstlerhaus Balmoral in 2000 and an Arts Council England Year of the Artist award for a work at Samphire Hoe in 2001. Her work has been shown in many international art institutions and galleries in the UK, Austria, Canada, Cyrpus, Germany and USA and is held in collections worldwide.
For further information about Joanna Jones' work contact

[email protected]

in collaboration with Galerie Gilla Lörcher Berlin



Newsletter:
©Joanna Jones and Renée Pfister (text), 2020. All rights reserved.

Joanna Jones, I am bringing something with me, #1, 2020,
egg tempera on canvas, H1600 mm x W1300 mm