< Back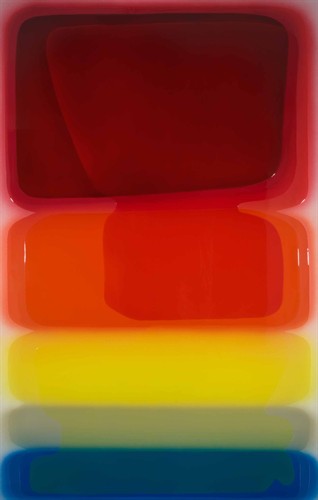 Peter Zimmermann - Touring Exhibition
A Continuation of Colour, Form and Pattern
Peter Zimmermann's work came to prominence during the 1980's. The exhibition A Continuation of Colour, Form and Pattern brings together a body of works from the early period of his artistic career to the present day. Zimmermann was born in Freiburg, Germany in 1957 and studied at the Staatliche Akademie für Kunst und Design, Stuttgart. From 2002 to 2007 he was a Professor at the Kunsthochschule für Neue Medien, Köln, Germany.
Unlike his predecessors who had to come to terms with the traumatic experiences of the Third Reich and the aftermath of World War II, Zimmermann is a second generation post‐war artist who was not hindered by these insufferable hostilities. He grew‐up during the German economic boom – Bundeskanzler Erhardt's Wirtschaftswunder ‐ and was influenced by new media – Neue Technologien. Zimmermann's formal book cover canvases, printed corrugated box installations, painterly abstractions, hard foam sculptures and his vibrant floor murals led to international exhibitions, major commissions and public acclaim.
This exhibition is the first major survey of Zimmermann's work and provides an opportunity to trace the development of his career and to experience some of his iconic works.