< Back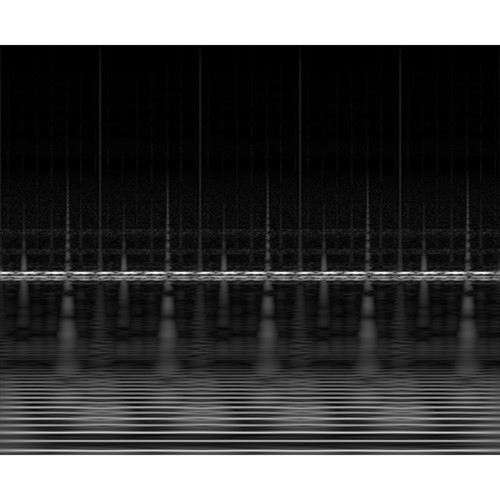 Sonic Scapes - Chris Tille - Artist in Focus - March 2018
Our urban environment is the topic of Chris Tille's new series of photographs 'Sonic Scapes', revealing the invisible energy of our cities through logging their hidden forces. He uses a relative spectrum analyser, a hand-held device that records frequency ranges between 1 Hz and 20 GHz of which only a small array can be perceived by the human ear. Tille transforms these acoustic accounts into visual perceptions to interpret the surrounding environment.

It is not the familiar metaphors of skyscrapers, boulevards and grid patterns he has bestowed us with, the results are pulsating symmetrical and asymmetrical patterns seemingly bouncing on water. He utilises the light in the visible spectrum and transforms the sound waves into bright and dark pixels. Loud noises with low frequencies produce whitish pixelised manifestations which can be observed in the lower area of the photograph. In contrast, soft disturbances with high frequencies emerge as grey appearances in the upper region of the image. Tille's collected data conveys the invisible energy of several metropolises in the language of a graphic score. His charts embody rhythm counts, melodic structures and peaks - dazzling and yet elusive.
Born in Munich, Germany, in 1971, Chris Tille was educated in Innsbruck, Austria. His prolific exhibition repertoire includes most recently Malta Contemporary Art, Sliema, Malta. In 2016, Galerie der Moderne, Stefan Vogdt Munich, and Galerie Junger, Shanghai. In 2015, his work was shown at Offizium an den Pinakotheken, Schlawien, MOCA Beijing, and Folly & Muse, London. Earlier exhibitions were at the Überfahrt, Rottach-Egern, Hyatt Regency, Calcutta, and the Pinakothek der Moderne, Munich. He has won the following awards Best Photographer & Designer, DWC Deutsche Wirtschaftschronik, Innovationsstandort and Bayern Sonderteil Photography/Design. His photographs are held in major international corporate, private and public collections.
Courtesy and ©Chris Tille and Renée Pfister (text) 2018. All rights reserved.
Video: Courtesy and ©Chris Tille, Renée Pfister (text), Daniel Birch (music) with assistance of Eleonora Guidi, 2018.
For further information about Chris Tille's work contact [email protected]
Chris Tille, Sonic Scape #019, Amsterdam, 2017
Limited Edition of 6, original photo (Ilford B/W paper)
under acrylic glass with black frame (Oak),
H1250 mm x W1500 mm