< Back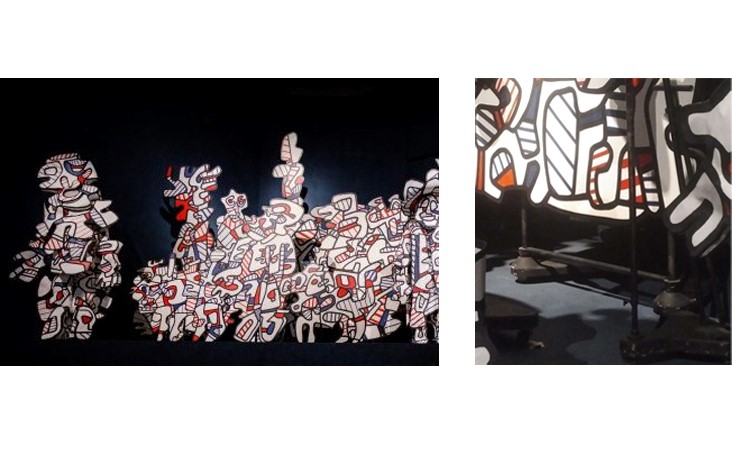 The Joy Of What We Do #35 Exhibtion Assessment
I am interested in the curatorial concept: how key moments shaped an art movement; the development of an artists' vocation with their impact and influence in the art historical canon along how the narratives weave through the gallery spaces. Furthermore, I examine the project from as many different viewpoints, ranging from visitor flow, demographics, support materials, graphics, illumination, environmental conditions, technical and display requirements and the logistics involved.

Naturally, when I visited the exhibition Jean Dubuffet Brutal Art, a thoughtfully curated and well-presented major survey of his work at the Barbican Art Gallery, showcasing four decades of his career, l followed my professional interests and curiosity. Whilst walking around enjoying and assessing the show, I learnt how his freestanding theatrical props or "practicables" as Dubuffet called them were supported. He created a series of one-hundred-seventy-five polyurethane cut-out figures, referring to elements of his earlier work L'Hourloupe. In an ideal situation, I would have liked to walk on the raised platform to examine the metal supports and electronic mechanism in detail, but of course, that was impossible. And when I was leaning over for closer inspection I set off the motion detector a few times, oops …..not the best behaviour of an art professional, but I gained an understanding of how some of these props worked.

Image: ©Theatrical props of Jean Dubuffet Practicables, Renée Pfister Art & Gallery Consultancy, 2021.
#jeandubuffet #artbrut #practicables #brutalart #naif #coucoubazaar #barbican #londonexhibition #reneepfisterartconsultancy