< Back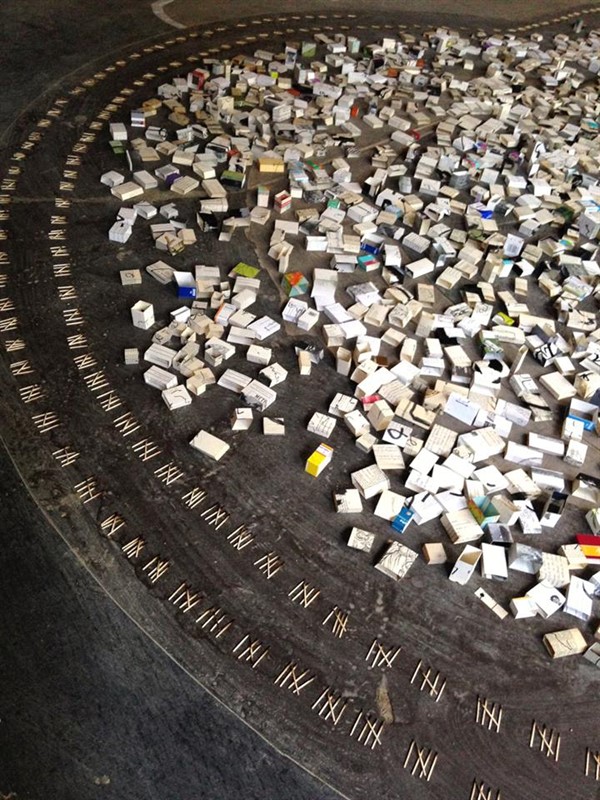 The Power of Art #20 Issam Kourbaj
Issam Kourbaj appropriated 'Another Day Lost' a song by the Lebanese singer Fairouz, from 1972, for his installation based upon the camps in which Syrian refugees and displaced persons have been living since the revolution in 2011. Days were counted from the15th March 2011, and the start of the 3rd Shubbak Festival, 11th July 2015. For each day another match was added to the perimeter fence, increasing the number of days lost by one daily throughout the exhibition.
In 2015, Kourbaj stated: "This work reflects on the scale of the refugee camps and the story of endless waiting, and not knowing when – if ever – my fellow Syrians will return home. These camps are nothing like our motherland and yet my people, having left behind fields, mountains, ancient villages, cities and communities, are now smashed together randomly, isolated from life and forgotten in the desert. Vast numbers of individuals are being forced to flee, leaving behind their homes, their culture, their hearts and their souls, and the laughter of their children."
Upon closer inspection, the thousands of tents in the miniature camps discernibly made from materials, reminiscent of waste products from life in refugee camps. Medicine packaging, papers from books and musical scores were repurposed for his installation, often marked with Kourbaj's distinctive black lines, based on Arabic calligraphy and traditional mourning ribbons. Around the perimeter of the miniature camp he added a fence made of burnt matches, counting the days that have passed since the first day of unrest in Syria.

Issam Kourbaj, 'Another Day Lost: 1579 and counting…', 2015, installation view, derelict pub, Golborn Road, London, dimensions variable.
Courtesy and ©Issam Kourbaj and Renée Pfister 2020.
#powerofart #lifeofrefugees #traditionalmorninribbons #miniaturecamp #derelictpub #abandonedpeople #reneepfisterartconsultancy #issamkourbajcambridge #lostdays