< Back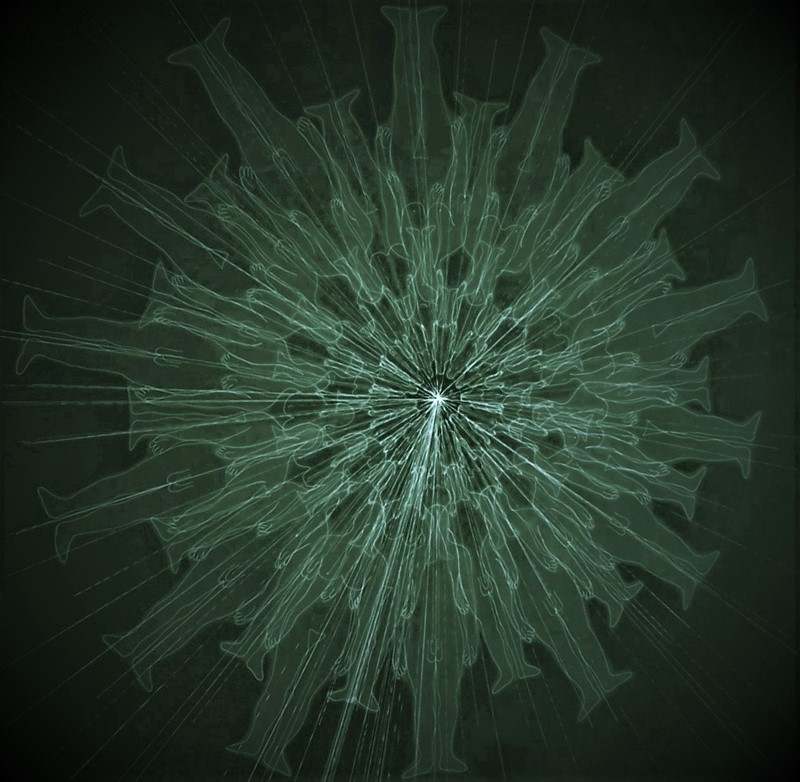 The Power of Art #29 Emelie Salford
The sequence came to life in 1999 and was developed over the years reflecting on the fragility yet force of humanity. It highlights the importance of closeness, kindness and the positive power of encounters. The works undergo a process, stitching, marking, penetrating the canvas - treating it as a layer of Life's own skin. Although 'Human Dandelion' was created in 2000, it feels relevant today during a time of social distancing caused by Covid-19 transmitted through physical human interaction. Salford remarks: "The work can be interpreted as an X-ray of the world today. If we don't stick together the world will fall apart".
Salford attributes her style and interests to her parents, both medical professionals: her works are influenced by medical and scientific images, often organic structures or immunological agents, creating a layered reality where art and science meet. Her inspiration derives from parallels between humanity and architecture, the interior landscape of the body and the brutality of the urban landscape. Most of all, art is for Salford an outlet encouraging a positive outlook on life, through which she can understand and reflect on her own feelings and sensations
In 2020, Salford was chosen as the Cover Artist for The Lancet Rheumatology and has created an original piece for the cover of each issue. She has exhibited with the Wellcome Trust, Pfizer, the Hospital Club and at the Imperial Invention Rooms and is planning an exhibition in 2021, featuring additional works from this series.
Human Dandelion 1999 (Part of the ongoing series: 'Cloning' series 1999-), mixed media, H1000 mm x W1000 mm, photographic work (an x-ray), 2020, H1000 mm x W1000 mm.
Courtesy and ©Emelie Salford, Eleonora Guidi and Renée Pfister, 2020.
#emeliesalford #thelancet #coverartist #wellcome trust #thehospitalclub #pfizer #artscience
#thepowerofart #reneepfisterartconsultancy #lancet
For information about our services contact [email protected]