< Back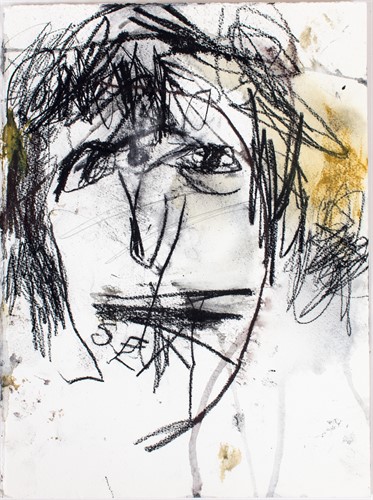 The Power of Art #30 Frances Aviva Blane
Frances Aviva Blane's work is concerned with the fragmentation of paint and personality; she constructs both abstract and figurative pictures, where figuration informs abstraction and vice versa. Blane utilises different media, painting and drawing, to keep things in a state of flux. "My paintings exist not to be understood but experienced," she proclaims.

Drawing is a medium that does not allow for cover-up corrections, making it much riskier for the artist. However, its nature results in an even more immediate and sincere image, expressing all the restlessness and unease of the artist.
Blane's subjects are often heads, deconstructed in a series of fractured lines. Battling the surface with extraordinary energy, she gives birth to compelling, vital and gritty images. Her personages are made with a few, yet powerful strokes, demanding the viewer's emotional engagement. The final image is a sublimation of uncanny and familiar, faithful to the intention of the artist to "make a mark that no one has ever seen before."

Blane studied painting at The Slade '91-'93 and won a scholarship to Djerassi Artists' Colony. She is a recipient of a Jerwood Drawing Award and exhibits internationally showing alongside Bacon and Bourgeois at De Queeste Art in Belgium. In 2016 Frances had a solo show at the German Embassy London.

She has exhibited with Frank Auerbach, Basil Beattie, Susan Stockwell and Jane McAdam Freud, was included in John Moores Painting Prize 2018, and published a book titled FAB in collaboration with Susie Orbach. Her work is in many collections including The LSE, Jesus College Cambridge, The Tim Sayer Collection London and The Doris Lockhart Collection.

Miro, 2020, Charcoal on paper, H380 mm x W220 mm.
Courtesy and ©Frances Aviva Blane, Eleonora Guidi and Renée Pfister, 2020.
#francesavivablane #portrait #head #charcoaldrawing #expressionist #artinlockdown
#thepowerofart #reneepfisterartconsultancy
For information about our services contact [email protected]