< Back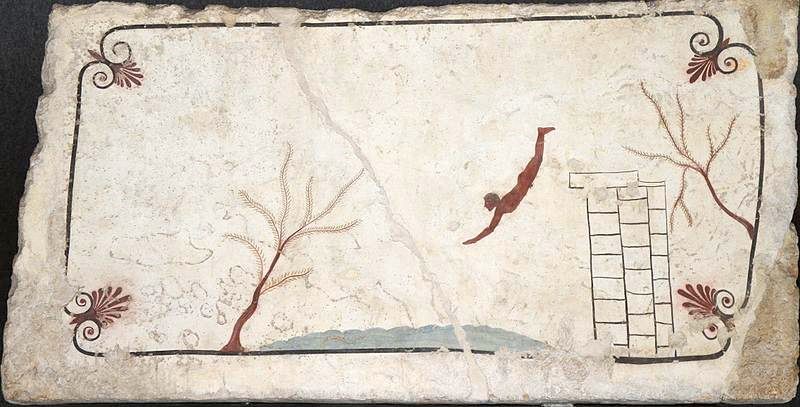 The Power of Art #34 The Diver
The Diver's tomb – La Tomba del Tuffatore was discovered near Paestum in 1968 by the archaeologist Mario Napoli. This crypt is well-known for its stunning painterly features, dating around 480 - 470 BC.
The stone grave is made of five limestone slabs, comprising four horizontal walls and a roof. The most superb of all is the covering section presenting the painting of the diver. This scene shows the young man diving from a column into the water – symbolising the transition of the soul from life to death -. The wall panels depict a symposium scene, a banquet featuring ten men in different poses, sitting together as affectionate couples, drinking wine and waiting for the diver to join them in the afterlife.
Although the style of the frescos is Greek, as it shares many characteristics with painting techniques used in Greek pottery, this is also the only Greek tomb to have been decorated with frescoes of human subjects, an evident influence of the Etruscan tradition from central Italy.

The Diver still resonates with me today; it is one of the images from antiquity I admired for its visual endurance through the passage of time.
Image: Courtesy ©Carole Raddato CC BY-SA 2.0 <https://creativecommons.org/licenses/by-sa/2.0>, via Wikimedia Commons

For information about our services contact [email protected]
#thetombdiver #paestum # #thepowerofart #theafterlife #reneepfisterartconsultancy #archaeology #greekart #etruscanart #funeralpainting