< Back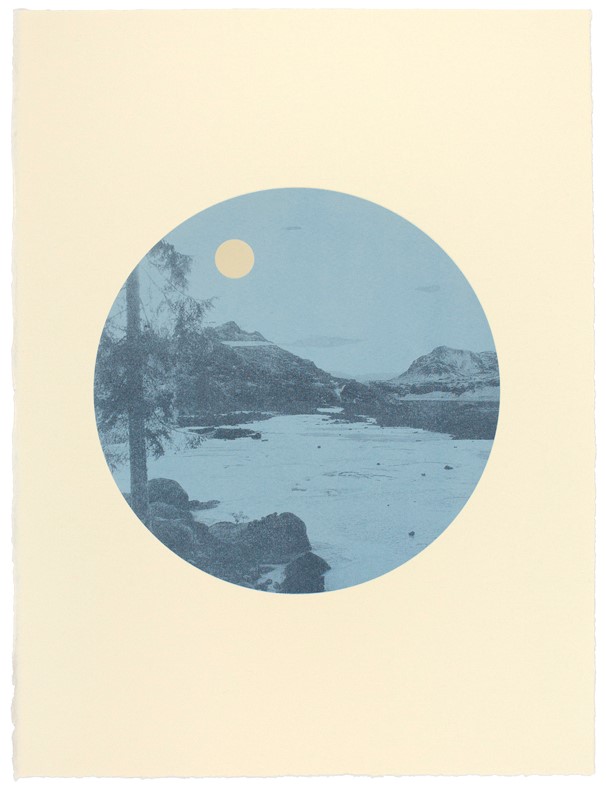 The Power of Art #43 Icelandic Moon
The inspiration behind this work derives from Jones' memories of her trip to Iceland, and the photographs she took of the sublime Icelandic valleys from Reykjavík to Þingvellir National Park. The snowy plains blend with the imagined landscapes of Japanese woodblock prints (Shin-Hanga, New Prints). One of the most prolific and famous Shin-Hanga artists was Hasui Kawase, and his moonlit scenes are some of Jones' favourite sources of inspiration.
The palette of this revisited landscape draws from the blue/grey hues of the sky and the ice glistening under the moon. Wedgewood blue, buff titanium and graphite powder were used to evoke the serene mood of the morning moon, with the graphite powder being reminiscent of the striking Icelandic black sand. The Japanese-style circular landscape was printed on Somerset Soft White Satin paper, hand-pulled by the artist in her Brighton printmaking studio.
Jones is an Artist and Printmaker based in Brighton, East Sussex, working between her artist studio and North Star Printmaking Studio. Her limited edition and original landscape prints are inspired by nature, adventures in the great outdoors, and the romantic sublime. Her art explores the vast landscapes, the ever-changing seasons, juxtaposing the real and fantastical. She combines hand-cut analogue and digital collages of her travel photographs and merges these subjects with paintings, and occasionally found imagery. The compositions are then hand-printed by the artist using techniques as screen-printing and cellulose transfer printing.
In 2020, she was awarded Bursary: Time-Space Money, supported by The Artists Information Company and Arts Council England, and in 2018 she took part in Woolwich Contemporary Editions. Jones exhibits in the UK and Internationally. Jones exhibits in the UK and Internationally. Jones exhibits in the UK and internationally and her work is held in private collections in the UK, France, Germany, New York, and L.A.
Image: Sherrie-Leigh Jones, Moon Over the Plain, Limited edition screenprint with graphite powder and ink on 300gsm Somerset Soft White Satin paper, H 380 x 285 mm, ⌀ 200 mm
Courtesy and ©Sherrie-Leigh Jones and Renée Pfister, 2021.
#screenprint #printspotters #limitededitionprint #contemporaryprintmaking #sherrieleighjones #youngcollectors #artforinteriors #inspiredbyiceland #japaneseprint #printcollector #shinhanga @sherrieleighjonesart #reneepfisterartconsultancy #thepowerofart