< Back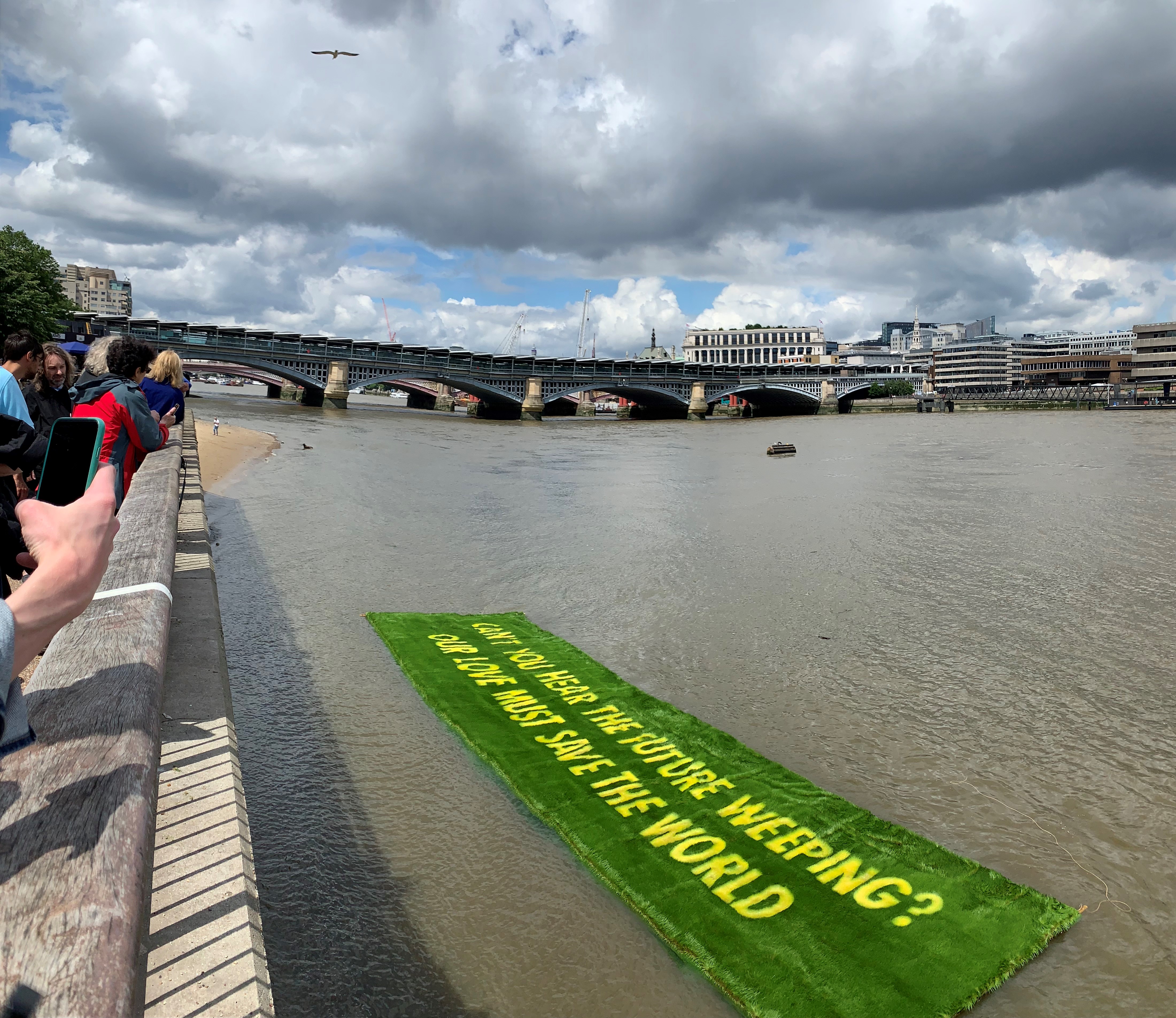 The Power of Art #50 On The Shore
Over nine days the artists had been growing a 16 meters long grassy pelt, from a bed of woven hessian stretched across the floor of Tate Modern's Turbine Hall. Imprinted on its surface, Ben Okri's words: "CAN'T YOU HEAR THE FUTURE WEEPING? OUR LOVE MUST SAVE THE WORLD". Stencilled letters made the grass underneath grow bright yellow, as they were deprived of light.

On 25th June at 12pm, the living artwork was then accompanied by the artists activists on a procession, a ceremonial journey from @Tate to Thames. The event was commissioned by #WritersRebel and saw the collaboration of Liz Jensen, @CapitalChoir, Mirabella Okri, @damonalbarn, Charlotte Jarvis, Sam Keen, @kellyhillphoto, Paul Ewen and many volunteers.

The installation follows Tate's declaration of a climate emergency in 2019.

Heather Ackroyd and Dan Harvey (b. 1959/1959 England) are internationally acclaimed for creating works that intersect art, activism, architecture, biology, ecology and history. In 2019, the artists co-founded @CultureDeclaresEmergency in response to the climate and ecological emergency.
Image: On the Shore ©Ackroyd & Harvey and Ben Okri
Commissioned for Paint The Land by Writers Rebel
Photo: Harry Hawkins
Seedling grass, hessian, photosynthesis

#ackroydandharvey #benokri #grass #poetry #artinstallation #performance #thames #culturedeclaresemergency #photosynthesis #damonalbarn #PaintTheLand #climateemergency #turbinehall #artforever #reneepfister #tatemodern