< Back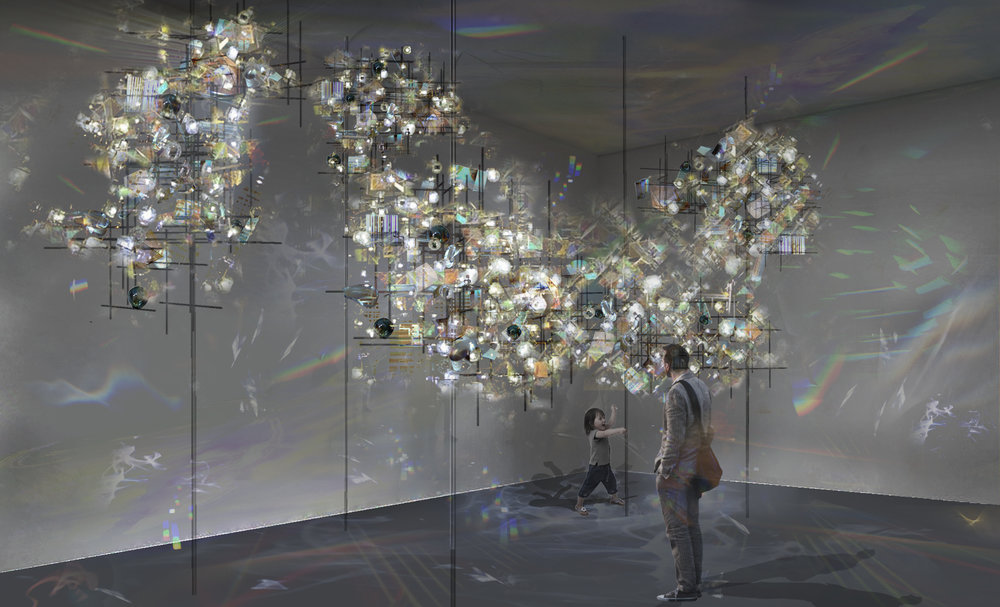 The Power of Art #51 Deep Time
Two roads come together here: no one has yet taken them to the end. This long lane backwards: it continues for an eternity. And that long lane forwards - it is another eternity. They are antithetical to one another, these roads; they directly abut on one another: - and it is here, at this gateway, that they come together. The name of the gateway is inscribed above: "Now" -
Friedrich Nietzsche, 1883.
With this evocative quote from Thus Spoke Zarathustra, we are introduced to antithetical lines of time, stretching one downwards, towards fossil records, buried strata of the light of the past; the other upwards, to the ancient light of the stars. Where the two meet, is the spectral fingerprint of a place. This installation, where crystalline clouds of elemental media co-compose the light of the place, replicates the interactivity that is now-ness. Here, opposing lines of time come together, as in the wider dimension of deep time, the vast scale of geologic events unimaginably greater than the time scale of human lives.
Shuster + Moseley developed projects with world-renowned scientists working in neuroscience, cosmology and imaging technologies. Their work is equally informed by research in anthropology, cosmology, philosophy, the esoteric arts and the poetics of space. Based in the South-East coast of England, their studio creates temporary and permanent works for public spaces, private collections and international exhibitions.
Image: Shuster + Moseley, Deep Time, 2018, Hand-blown glass, cast glass, optical filters and screens, scrap metals, electronic components, crystals, site-specific raw materials, LED's, stainless steel bars. 5 'clouds' depicted, each 1-3m x 2-5m
Courtesy and ©Shuster + Moseley and Renée Pfister Art & Gallery Consultancy, 2021
#shustermoseley #lightart #lightinstallation #contemporarysculpture #publicart #artexperience #sculptureoftheday #outdoorart #futurerelic #outdoorsculpture #reneepfisterartconsultancy #artnow