< Back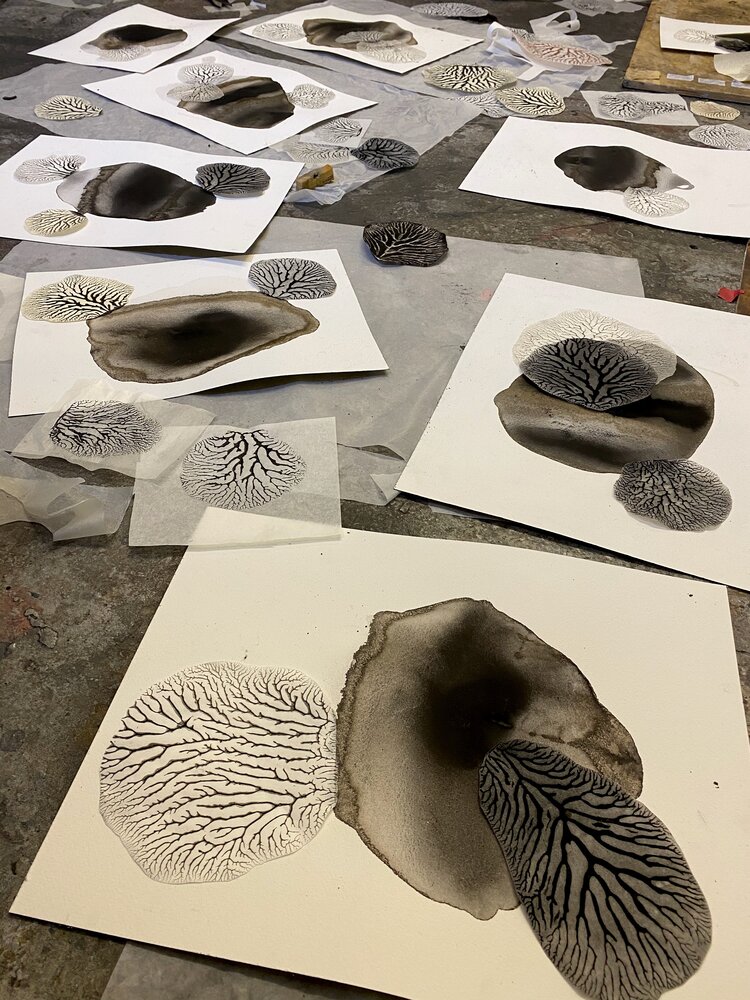 The Power of Art #61 Carboniferous Collages
Materials are constantly morphing, and new forms emerge from simple physical processes such as erosion, compression, fracture and flow – repeated and complex - but always different. Her depictions are like poems attempting to stir our imagination and emotions, reflecting on life's uncertainty and creating new meaning. Hodge is interested in our response to the shifting and unstable nature of our material world, our attempts to understand, control, collect and endow matter with significance.
Recently she worked with coal pigments gathered from the Thames shore. Pondering about the deep time through which this blackened carbonise material evolved from the remnants of ancient Carboniferous forests, Hodge, created a series of Carboniferous collages. Her method involved dropping the produced ink – paint, usually blended with gum Arabic into the Thames water, letting the coal-paint pool, settle and diffuse on the paper. Dendritic patterns emerge as paint is pulled apart, combining them to make new biomorphic forms.
Courtesy and ©Sam Hodge and Renée Pfister Art & Gallery Consultancy, 2021.
Image: Carboniferous collages, works in progress, 2021.
#samhodge #pigments #ink #reneepfisterartandgalleryconsultancy #naturalworld #carboniferous #artoftheweek #collages #patterns #formsandshapes #thames #morphing #coal