< Back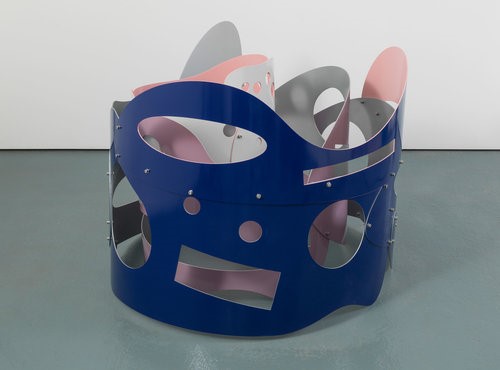 The Power of Art #7 Jeff Lowe
For more than four decades Lowe has been making sculptures. He was taught by the late Sir Anthony Caro, at St. Martins School of Art, and has re-invented his oeuvre time and time again, from his early heavy and slow-moving pieces to his geometrical cage-like monuments. His latest colourful and playful sculptures present a new vernacular.
Lowe creates individual spray-painted sculptural elements, which while in the process of drying he noticed were reminiscent of clothes on washing lines. Welding these individual structures together made them appear like bulky casts, a result he disliked. He then decided to utilise nuts and bolts, allowing him to craft the delicate forms he envisaged. Each section is computer drawn and laser-cut, with some patterns being specific while others are random.
Dido's Aria, no 14 from the series in the close distance, 2019, painted aluminum, H970 mm x W1200 mm x D1222 mm.
Courtesy and © Jeff Lowe, Steve Russell Studios (photography) and Renée Pfister
#screenprinting #expressiveart #igartists #contemporarycurator #sculptor #meaningfulart #lasercut #powerofart #britishsculptor #woodblocks #anthonycaro #weldedsculpture #artforever #reneepfisterartconsultancy #jefflowesculptor #monicaleelowe
For information about our services contact [email protected]