< Back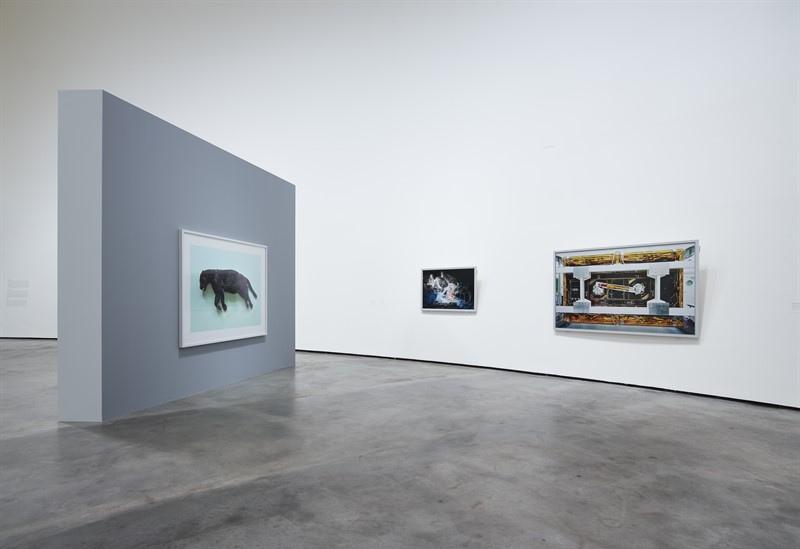 Thomas Struth at the Guggenheim Museum Bilbao
It was not my intention to work in the field of photography,
my aim was to move in the field of art.
Thomas Struth, 2016
In January 2020, after three years in the making the Thomas Struth retrospective at Guggenheim Bilbao closed with an unusual finissage. It is the 65-year-old German photographer's most extensive exhibition so far, spanning from his early post-war Düsseldorf cityscapes to his recent collaborations with NASA, Houston, Max Planck Institute, Garching and the Leibnitz Institute for Zoo and Wildlife Research, Berlin. The display showcases Struth's diverse approach to various subject matters aligned with his instantly recognisable visual language. "What do I want to achieve with the image, what do I want to say, what do I want to show", he asks, "if I cut the image a little here or there it alters the photograph, giving it a different dynamic" - contemplating endless possibilities to accomplish his vision.
Like a conductor who co-ordinates his ensemble, Struth orchestrates the image to achieve the desired outcomes. His prolific body of work unfolds in front of our eyes, presented in meaningful juxtapositions. In Sala 202 we can experience the Lindberg project. Invited by Director Dieter Schwartz from the Winterthur Museum, in 1990, Struth created the series Dandelion Room for the expanding Lindberg Hospital. The calm and serene images of flowers and landscapes reveal Struth's caring and empathic approach towards the hospital's patients. Often under medical care for prolonged periods of time, these natural impressions would provide solace during treatment and attempt to connect occupants with the outside world. Opposite the Lindberg project we encounter images of the continuing conflict between Israel and Palestine. Struth was invited amongst others to participate in a project called This Place, by the French photographer Frédéric Brenner. Ruins, destruction, no-go-zones, abandonment and daily life from the occupied West Bank were placed next to serene Swiss landscapes and gentle blossoms. These images speak for themselves, narrating an account of the contradictive nature and conduct of our species.
The Disneyland series in Sala 203 conveys Struth's fascination with amusement parks. Anaheim in California, the only Disney theme park completed under the direction of Walt Disney was an ideal place for his exploration. Ride Anaheim 2013, a chromatic print catapults the viewer into an Inferno de Dante, a 21st century fantastasmorgia. Indeed, it is the intention of leisure entertainment to connect us with our imagination and primeval instincts. Pond Anaheim, 2013 and Crack 2009, possess a dream like vocabulary, heightened by the absence of Disney personages and the public. The surrounding rocks and greenery are even more pronounced, exposing a kind of hyperreal tension.
The large-scale c-print sequence New Pictures from Paradise from the late nineties is presented in Sala 209. Here, Struth dives into the earthly fabric of space and time - no beginning - no end. Lush rainforests and woodlands from around the globe erupt with vitality and exude harmony and tranquility, away from the daily hustle and bustle. These increasingly scarce wonderlands draw attention to our imbalance with nature.
His latest body of work combined with some earlier pieces headed under the topic Nature & Politics, in Sala 208, is for me, the most moving exhibit. Visitors were confronted by the newest scientific advancements, which Struth portraited and had observed at several research centres in Europe and the USA, such as CERN and NASA. Contrasted by images of deceased exotic animals who had died of natural causes in their menagerie along with two works depicting surgical procedures at Berlin's Charité Hospital. These compositions are a testimony of Struth's endless curiosity and profound compassion. They demonstrate a leap from the memento mori to 21st century cutting-edge technology, reflecting upon our fallibility and inevitable demise.
The exhibition closed with an exciting programme. It was a privilege to join some of the events including attending a workshop with Struth. The Guggenheim museum had selected five photographers at different stages of their career. Each participant had to present a range of work. Struth would discuss and choose the best pieces. During this process he asked critical questions about their intentions, selected topics, printing and technical methods. He provided honest opinions, offered suggestions on progressing their objectives and referred to his own practice and experiences. Receiving counsel from Struth was tremendously beneficial for those peers and greatly appreciated, a generous and kind gesture by an artist of his calibre.
An exclusive concert with Frank Bungarten, a friend and collaborator of Struth was arranged for the evening. The acclaimed guitarist enchanted the audience with compositions by J.S. Bach and Emilio Pujol. The subsequent evening event featured Struth's friend Professor James Beacham, an expert in Particle Physics at the Large Hadron Collider, near Geneva. He presented the talk 'Decrypting the Universe' captivating the imagination of the attendees. These memorable occasions were appropriate conclusions of Struth's significant exposition.
This review highlights a few cycles of Thomas Struth inventive yield, which formed part of the Guggenheim retrospective. Both his creative vigour and Guggenheim's curatorial approach towards his opus were consistently sound and presented to a high standard. This exhibition demonstrates his intention to show that his ground-breaking practice is anchored in the arena of art.
Courtesy and ©Guggenheim Bilbao, James Beachamp, Frank Bungarten, Thomas Struth and Renée Pfister (text), London, 2020. All rights reserved.
Thomas Struth, Sala 208, installation view Nature and Politics.